Pierre Etaix (Criterion)

Circus acrobat, clown, cabaret star, artist, actor, and for a brief time director, Pierre Etaix (pronounced eh-TEX) is one of the great comedy treasures of France. It wasn't meant to be a secret, but his relatively small body of work as a director—he made five features (four comedies and a documentary) and three comedy shorts between 1961 and 1971—was out of circulation for four decades due to legal issues. They were freed only in 2009, restored in 2010, and rereleased in France to great acclaim. Seeing them for the first time is a revelation.
His debut short Rupture (1961), a nearly wordless one-man show with Étaix as a jilted lover whose entire world quite literally comes apart around him while he tries to write a response to a break-up letter. He won an Oscar for his second short film, Happy Anniversary (1962), where he's on the losing side of a war with modern urban life while his wife awaits his return home. The dialogue is spare to say the least—his films could play sans subtitles and be just as effective—and he uses music just as sparingly. The audio punchlines are all in the cartoonish sound effects pumped up to a surreal prominence.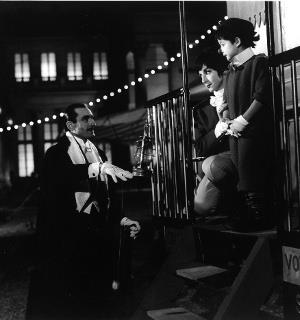 His masterpiece is Yoyo (1965), an almost silent comedy that in fact begins with an evocation of the silent era and ends with a wry jab at sixties TV culture. Étaix directs, co-writes (with Jean-Claude Carrière, his collaborator on every film except his documentary), and stars in two roles: a ruined millionaire who joins the circus with a beautiful trick rider and his own grown son, who becomes a celebrated clown and returns home to restore the neglected mansion. It's quite gentle and sweet, with a quiet yearning under his masterful comic performance and hilarious comic inventions, but Étaix is a gag man first and foremost and "Yo-Yo" is filled with brilliant and sublime gags and physical humor.
As both filmmaker and comic screen persona, the obvious comparisons are to Jacques Tati and Buster Keaton: the silent movie clown in a sound world. He worked with Tati as a gag writer and cartoonist, creating Tati's trademark caricature used on many of his film posters, and he is a master at shaping a visual gag with the grace of a dancing master and the imagination of a cartoonist. His hangdog expression, poised between curiosity and measured focus, has the shadow of Keaton's stone-faced resilience in the face of adversity.
But where Tati refuses to let the confounding modern world phase his optimism, and Keaton overcomes adversity with inspiration and tenacity, Etaix simply endures, resigned to every setback and compromise in a modern social culture he can never quite fit into. In that, and in the way Etaix keeps rolling his visual punchlines into a new gag, he shares a sensibility (if not exactly a temperament) with Jerry Lewis, a director he admired so much he wrote a book about him. Like Lewis, the Etaix protagonist is a man at odds with the world around him. He is, however, much more discreet and elegant in the way he loses his tangles with social conundrums and physical obstacles.