Jackie Chan's landmark action spectacles "Police Story" and "Police Story 2" debut on Blu-ray stateside this week on a double-feature disc (reviewed on Videodrone here). These films were blockbuster smashes in Hong Kong and international hits everywhere except the U.S., and they changes the course of Hong Kong film industry.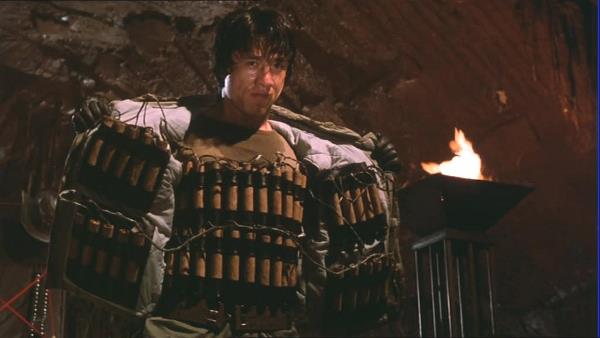 If you like this brand of action cinema – and what's not to like? – here's a list of a dozen more landmarks from the madcap glory days of Hong Kong action cinema from "Police Story" to 1995. All of these were released on disc stateside (a lot of great Hong Kong action is still only available as imports) and while some are out of print, they can usually be found at surviving video stores that cater to fans of cult movies. Support one today! Those available on streaming services are also noted.
This is not a definitive list, mind you, just completely subjective a starting point: a dozen gonzo action films with a delirious sense if kinetic logic that made Hong Kong cinema of the eighties and early nineties the cult destination for films fans the world over.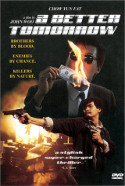 Armour of God (renamed Operation Condor 2: The Armour of God for American home video) (1986, Echo Bridge Blu-ray and DVD / Netflix streaming) – Jackie Chan's globe-trotting parody of the "Indiana Jones" films remains bright, colorful, and great fun. As befits an international adventurer, Jackie spends more time in grand set pieces and elaborate stunts than actual hand to hand combat, but the slam bang finale has more kinetic action than most American films offer in an entire feature. Try to get the Hong Kong import because the American version is cut.
A Better Tomorrow (1986, Anchor Bay DVD) – While not John Woo's first films, I consider this gangster thriller the first "John Woo" film: his articulation of speed and movement, runaway-train pacing, and razor precise editing explode onto the screen unlike anything he'd created before. His elemental themes of ideals and family, duty and honor, emerge from the story of a high level triad and his younger brother, a rookie cop oblivious to his elder's activities, but supporting player Chow Yun-fat shines them off the screen with his cool charm.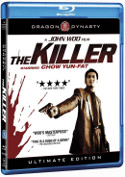 The Killer (1989, Vivendi Blu-ray and DVD) – The suave and silky Chow Yun-fat is the soulful hitman in the explosive crime thriller that established John Woo's international reputation. Woo balances high octane action, hard edged violence, operatic melodrama and stylized editing that would make Peckinpah catch his breath into a magnificent obsession of an action movie classic.
Once Upon a Time in China (1991, Sony DVD) – Tsui Hark's sweeping martial arts epic is a historical action picture as new wave pulp. Jet Li rose to stardom as Chinese folk hero Wong Fei Hung: healer, teacher, and wicked scrapper when his mild mannered ways are pushed to the limit. That's easily done when the British, the Americans, and the French bring gunboat diplomacy to 1875 China. The history is pure flag waving heroics, but the set pieces are masterful, the color and the choreography are magnificent, and Jet Li get almost airborne while fighting on ladders swooshing back and forth in a grain elevator.