Let's face it, Soviet silent cinema isn't known for its sense of humor. Which is not say that it's completely unknown; the 1925 comedy short Chess Fever is an often cartoonishly inventive parody of the chess madness that swept Russia in its day and the cheeky humor and tongue-in-satire of the 1926 adventure serial Miss Mend is a delight by anyone's standards. But silent Russian comedies are harder to find than, say, rousing celebrations of Soviet values and nationalistic displays of great communist victories.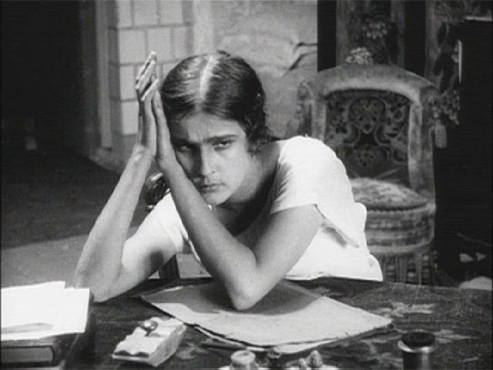 For that reason alone, the 1924 The Cigarette Girl of Mosselprom stands out, a lightweight, fun-loving romantic comedy set on the bustling streets of Moscow where three suitors vie for the attentions of lovely Zina, the cigarette girl of the title (played but Yuliya Solntseva, most famous for playing Aelita in the 1924 science fiction lark Aelita: Queen of Mars). The accountant Mutyushin (Igor Ilyinsky, also from Aelita), looking very much the nervous scholar in his trim mustache and cluttered office, buys a pack from her everyday in Mosselprom Square, even though he doesn't smoke (his collection is a shrine to his love for her). Movie cameraman Latugin (Nikolai Tsereteli), young and handsome and charming, is immediately smitten when he spots her while scouting locations and invites her to audition for a new movie. American Oliver MacBride (M. Tsybulsky), a fat cat capitalist on a business trip in Moscow, falls for her while visiting the set. The story meanders through a somewhat arbitrary plot that sends Zina bouncing between the suitors while Mutyushin provides most of the comic relief as he weaves between his infatuation with Zina and his halfhearted romance with a fellow accountant, who assumes that the elaborate love letters he leaves half-written on his desk are destined for her.
Along with the romantic confusion and slapstick comedy (some of it quite accomplished, some of it merely energetically executed) is a snapshot of the urban bustle and modern life of contemporary Moscow, circa 1924. Director Yuri Zhelyabuzhsky, who began as a cinematographer and continued to shoot his own films (no wonder he favors the cameraman in this romantic quadrangle), takes the camera to the streets, just as the company within the film does. And he has fun with the moviemaking story that runs through the film, from simple scenes of his characters shooting a film on the streets of Moscow, keeping crowds back and the curious from wandering into their shots while Latugin's infatuation distracts him from the work at hand, to watching the raw footage of the American-backed travelogue "Everyday Life in Moscow" which the lovesick cameraman has transformed into a moving photo album of Zina, whose presence obscures the landmarks he's supposed to be shooting.