Fritz Lang arrived in Hollywood as an artist in exile and, as the creator of some of Germany's most famous and most successful films, accorded all due respect. Unlike a lot of artist refugees from Hitler's Germany, he was offered prestige assignments, "important" subjects and major stars. At least at first. Without major hits or awards to his credit, and with a reputation for autocratic methods (there's nothing a studio hates more than a "difficult" director), he very slowly slipped down the ladder into smaller budgets and increasingly turned to independent productions.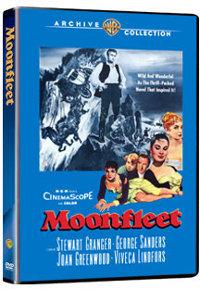 Fritz Lang's final three American productions were released through the Warner Archive Collection this year. And while they never reach the heights of his greatest American films—You Only Live Once (1937), Man Hunt (1941), Scarlet Street  (1945), The Big Heat (1953)—they have their pleasures and rewards.
Moonfleet (1955) was Lang's last film for one of the Hollywood majors. The budget-minded MGM production set in 18th century England, it's like "Great Expectations" by way of a gothic film noir, in this case a world of smugglers, knaves and decadent, corrupt gentry  on the rocky, foggy British coast. Jon Whitely is the film's answer to Pip, a plucky young orphan sent to live with the dark criminal aristocrat Jeremy Fox (Stewart Granger), a brigand with money and status torn between his mercenary instincts and his growing sense of responsibility for the innocent and unfailingly loyal boy, the son of the woman he loved and in many ways the symbol of the road not taken.
Lang shot in CinemaScope entirely in the studio and still creates a claustrophobic world of craggy moors and bleak architecture. Even the stony church is a bleak sanctuary where cold statues seem to judge, if not outright threaten, the parishioners. Visually it anticipates the look of the Hammer Gothic horrors and Corman's Poe films, with its studio moors and gloomy sets of stone gray and rough wood and costumes of royal purple and soldier crimson, all shrouded in fog and mist like a perpetual purgatory. Granger delivers a perfectly sardonic and arrogant performance while George Sanders purrs pure aristocratic decadence and moral bankruptcy, relishing his easy corruption with wry looks and cheerfully greedy behavior. "You're cheating," accuses one man at a card game. He fixes a weary smirk and replies: "Even if I were, I'd consider it grossly impolite to say so in my own house." Sure, there's a redemption in the offing, but the brigands are a lot more fun.
After this low-end studio assignment, Lang ended his Hollywood career at RKO, once a major studio slowly withering under the capricious command of Howard Hughes, working with falling stars and budget-starved productions in black and white that he did his best to turn into an asset.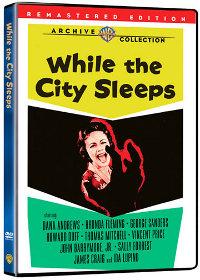 While the City Sleeps (1956) is less an all-star cast than a veteran line-up of studio pros: Dana Andrews as the ostensible lead, a TV newscaster in a multi-media news company that encompasses a metropolitan daily paper and a wire service, Rhonda Fleming, George Sanders, Howard Duff, Thomas Mitchell, Vincent Price and Ida Lupino as the newspaper columnist whose nose for office politics is her greatest survival skill. Ostensibly a thriller about a serial killer (John Drew Barrymore) and the media circus around the investigation, there isn't much tension or crime movie thriller energy, but it does offer a thoroughly corrupt portrait of life: while a psychotic leatherboy kills girls and blames his mom, the staff of a new organization plays politics to maneuver themselves into a promotion when the playboy son (Vincent Price) of the deceased owner takes over and essentially pits his employees against one another to vie from promotion.
Dana Andrews is back in the lead of Beyond a Reasonable Doubt (1956), a clever little thriller that has Andrews and a crusading newspaper publisher (who is, not so coincidentally, the father of his fiancée, Joan Fontaine) staging his "guilt" in a murder investigation by planting circumstantial evidence. It's all an elaborate anti-capital punishment protest, until an untimely accident destroys all the evidence of his innocence and leaves him facing the death penalty while Fontaine takes up his cause. It doesn't have the poetry or the intensity of his best American films, and it lacks the power of "The Big Heat" or even the embrace of the decadent and corrupt world of "Moonfleet," but it makes an odd little bookend to Lang's 1930s dramas of social protest and it boomerangs back with a weirdly cynical twist. Those familiar with Lang's disdain for Hollywood's contrived happy endings will have a field day imaging how Lang would have preferred to end this barbed little picture.
Both of these films are presented in the SuperScope process, a cheap widescreen alternative to the anamorphic CinemaScope process. Where CinemaScope used the entire 35mm frame, the widescreen of SuperScope uses only a portion of the frame, masking off the top and bottom and rephotographing the image on an optically squeezed anamorphic print, which would then by widened out by an anamorphic lens in projection across the big screen at a ratio somewhere between 1.75:1 and 2:1 ratio (twice as wide as it is high). The process inevitably resulted in a soft, degraded image and for years television prints presented the original, unmasked version. David Bordwell offers much more detail on the process at his blog here. The process, needless to say, didn't last long.
There is some debate over what Lang intended and how the film was ultimately shown in the U.S., given the rather inexact nature of the process and the sometimes capricious treatment of films by studios who could "widescreen" a film in post-production. These discs present the SuperScope editions at 2:1 and you can see that they are just a little softer and grainier than the usual widescreen movies, not distractingly so on home video but enough to notice the sacrifice. And they like fine to my eyes, though a little cramped at times. David Bordwell digs into the debate, does his research and offers illustrations here.
All three films available exclusive from the Warner Archive:
Moonfleet (Warner Archive)
While the City Sleeps (Warner Archive)
Beyond a Reasonable Doubt (Warner Archive)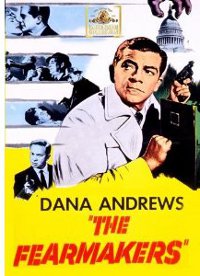 On a side note, these last two films got me thinking about the strange case of Dana Andrews, the leading man of the forties who aged into lower budget and off-studio productions as the fifties wore on. He was off the A-list but still cast as romantic leads, often opposite women decades his junior. Not an unusual state of affairs of Hollywood then (see Clark Gable) or now (Bruce Willis anyone?), but next to the square stiffness of Andrews it plays a little weird. Such as in "Beyond a Reasonable Doubt," when he picks up a showgirl in his campaign to stage his guilt, or in Jacques Tourneur's The Fearmakers (MGM Limited Edition Collection), a 1958 Cold War drama that plays on fears of spies and propaganda and the insidious manipulation of public opinion polls to shape (rather than measure) public opinion. The subject matter is as timely as ever but the film itself a confused production that, even as it hammers on its themes in speech after speech, conflates the Red Scare with Fascism and stumbles over its insistent exposition. Meanwhile, this Korean war veteran hero deals with PTSD (not named as such, of course, and rather too easily conquered) and solves the murder of his partner while winning the girl (Marilee Earle, easily two decades his junior) and striking back against the "fellow travelers" with his two American fists. The Lincoln Memorial and the Washington Monument watch on in approval.
Andrews starred in a great number of superb American films, well cast and directed in Laura (1944), The Ox-Bow Incident (1943), The Best Years of Our Lives (1946), and two of Jacques Tourneur's best films, Canyon Passage (1946) and Curse of the Demon (1957). The Fearmakers is a disappointment, but its attempt to discuss the complex issues of media manipulation and political opinion makes it and interesting disappointment. It also illustrates why Mel Torme, who has a supporting role as a milquetoast conspirator, never became a movie star.
Available by order only from the MGM Limited Collection, from Amazon, Screen Archives Entertainment, Classic Movies Now and other web retailers.