For the Love of Film: The Film Preservation Blogathon III, which runs from Sunday, May 13 through Friday, May 18, 2012, is dedicated to helping the National Film Preservation Foundation raise money to score and stream the recently unearthed reels of The White Shadow, a silent film from director Graham Cutts that young Alfred Hitchcock worked on as screenwriter, production designer, editor, and assistant director, for all to enjoy. The blogathon is hosted by Ferdy on Films, Self-Styled Siren, and This Island Rod, and you can make your donations to that effort at the NFPF website here.
While most participants so far have chosen to focus on Hitchcock, I have chosen to wrote about topics close to my heart: silent film and the preservation and restoration of films of the silent era.
Director Tod Browning and actor Lon Chaney made ten features together between 1919 and 1929. Of those films, London After Midnight (1927) is lost (a "photo reconstruction" was created by Rick Schmidlin in 2002) and remains one of the holy grails of film hunters, but seven of the other nine are currently available in good to superb home video editions. Given the state of silent film preservation (experts figure that 90% of all silent movies are lost), that's an impressive number, probably due more to the star power of Chaney than anything else.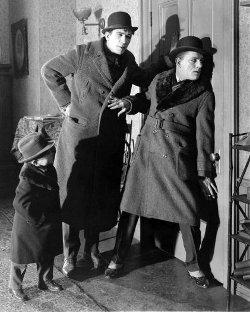 Given the state of home video sales, however, it is astounding that so many are available on DVD, and that is in large part thanks to the Warner Archive Collection, the pioneering manufacture-on-deman?d line from Warner Home Video. The Unholy Three (1925) was released in 2010 and three more collaborations have just been made available: The Black Bird (1926), West of Zanzibar (1928), and Where East is East (1929), their final collaboration before Chaney's death in 1930, at the age of 44, before he was able to take the lead in Browning's upcoming production of Dracula.
Lon Chaney was known as "The Man of a Thousand Faces" for his dedication to elaborate make-up effects, but what made his creations so compelling was his complete physical transformation (the Hunchback and the Phantom of the Opera required very painful prosthetics), finding ways to externalize the inner torments and conflicted drives of his heroes, villains, and victims.
The prolific Chaney consistently brought a weird edge to most all of his roles, but only Tod Browning, a director with a taste for obsessive and tormented characters, encouraged him to reach for truly wild and twisted incarnations. They were one of the defining director / actor teams of twenties, united in their love of tragic, exotic, often grotesque characters, and the way they reveled in the extremes and the contradictions of the exaggerated figures.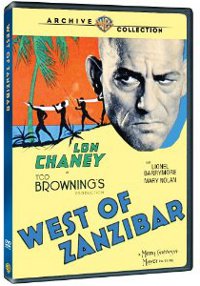 In The Black Bird, Chaney splits that conflicted characterization into two separate personae: the Limehouse crook Dan Tate and the crippled preacher Bishop, the "secret identity" that Dan wears in the daytime that blossoms into a split personality. Is Bishop's benevolence just a pose, or a repressed part of his personality that only comes out when he takes on the elaborate physical handicap? It's not just a matter of Chaney going all out for the physical performance, mind you, it's the way the character of Dan Tate himself is so committed to his alter ego that it becomes as real as he is.
Vengeance, another consistent emotional engine for both Browning and Chaney, drives West of Zanzibar (1928), which is as wickedly twisted as anything Browning has made. Chaney is Phroso, a vaudeville magician cuckolded by his beautiful wife and stage assistant, and crippled when her lover Crane (Lionel Barrymore) pushes him over a balcony. Chaney transforms Phroso into a wretched figure, so consumed with hate and revenge that he spends 18 years preparing his plan in the jungles of the Congo, living as a self-made god among the cannibals while having Crane's illegitimate daughter raised in a Zanzibar brothel. Just which of these two men, Crane (now an ivory trader in the Congo) or Phroso (king of his corner of hell), is the worst villain is a fair question at this stage of the film.