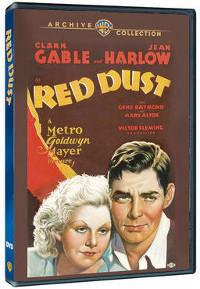 Red Dust (Warner Archive), the 1932 jungle melodrama starring Clark Gable as a rubber plantation foreman in East Asia and Jean Harlow as the street smart showgirl who takes a powder from "Say-gone" (as they call the future Vietnamese city of Saigon) and lands upriver in his primitive plantation manor, is as sexy, frank, and grown-up as pre-code cinema gets.
Gable's Dennis Carson is pure testosterone, a macho hunk of survivalist instinct, racial bigotry, and unapologetic chauvinism, as arrogant and judgmental as he is hypocritical, which strangely enough is part of his rough-edged charm. And make no mistake, the man is mesmerizing, even when he's insufferable. Gable was quite a prolific player in the MGM stable but until then he was always playing in support to the star. Director Victor Fleming plucked Gable to take the lead here with newly-minted star Harlow and helped shape Gable as the rugged man's man star, a cocktail of machismo and impertinence and sassy confidence that defined his image. Fleming soon became Gable's friend and hunting buddy and the actor's favorite director.
As with Gable, Fleming helped shape Harlow's screen persona with this and the subsequent "Bombshell" (also available from the Warner Archive; reviewed on Parallax View here). Harlow is Vantine, a woman of indeterminate employment (she's hitched a ride on the first boat out to get out of a spot of trouble, a hazard, as she explains, "in my line of work") and no apologies. That's her charm and Harlow magnificently embodies this creature. Whatever her career, she makes no apologies of how lives her life. She's open, unashamed, likes to sleep with men, and doesn't care what anyone thinks about it.
Which is more than you can say about Carson, a man who makes a show of independence and morality, then proceeds to put the moves on a married woman (Mary Astor), the wife of his new engineer, who is conveniently sent to survey the farthest reaches of his jungle plot. The heat between the proper society woman in the wild and the great white hunter dazzled by culture is palpable and it makes a fool — and a hypocrite — of Carson, who immediately kicks Vantine out of his bed to make room for his hot and heavy affair. But Vantine is still there, lounging around in lingerie and merrily bathing in the rain barrel without bothering to pull the shades, not as a temptation but as a conscience.
It's all shot on the leftover "Tarzan" sets on the MGM backlot, a perfectly artificial jungle set of fake trees and painted backdrops, and filled with demeaning Asian stereotypes of native "coolie" workers. Most of the conversation between Carson and his engineer consists of swapping complaints about how lazy and sneaky the coolies are, a work force indistinguishable from press gangs or slave labor. No irony here, merely the usual extension of manifest destiny and colonialist arrogance that Hollywood happily embodied in its golden years.
You can (and should) enjoy the film even while recognizing the insensitivity and western arrogance. In fact, the film so frankly acknowledges and confronts Caron's hypocrisy that you can mentally extend the theme in ways the filmmakers surely never intended. But even if you can't, the glow of Harlow, the heat of her chemistry with Gable, the strength and grace of Astor, and the exotic fantasy of uninhibited jungle love among the American expatriates is irresistible.
The star power made this a classic of late-night TV and early VHS release, but the lack of high-quality archival elements made it MIA when other star-powered Hollywood classics rolled out on DVD. And while this Warner Archive release isn't necessarily stellar, it looks very good and marks one of the biggest releases of the format. It's about time this film was available on disc.
Available exclusively from Warner Archive:
Red Dust