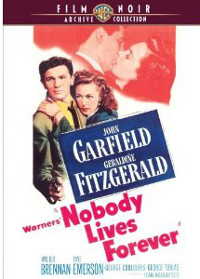 Jean Negulesco is not the first name that comes up when discussing the great directors of film noir. In fact, it rarely comes up at all. The studio photographer turned director is still best remembered for glossy studio films like How To Marry a Millionaire (1953), Three Coins in the Fountain (1954), and Daddy Long Legs (1955). Even the recently released book "Film Noir: The Directors" from editors Alain Silver and James Ursini skips him completely. And I confess, his absence only registered with me recently, in light of three recent releases from the Warner Archive. The Conspirators (1944), Three Strangers (1946), and Nobody Lives Forever (1946), three of the four features that elevated Jean Negulesco from studio contract man cranking out theatrical shorts to A-list Warner director, are the first films from the Warner Archive to carry the brand "Film Noir." And they earn the brand.
The Conspirators is less film noir than cloak-and-dagger espionage thriller set in exotic locales of World War II resistance. In many ways it is an unimaginative Casablanca knock-off relocated to Portugal, with half the cast carried along with it. Paul Henried is once again the resistance hero on the run from the Nazis, this one from the Netherlands (he's nicknamed "The Flying Dutchman") and hiding out in the technically neutral Lisbon while awaiting passage to London, and Sidney Greenstreet and Peter Lorre as members of the Portuguese resistance. Hedy Lamarr takes the Bergman role here as an elegant spy and Joseph Calleia is wonderfully ambiguous in the Claude Rains roles as the Portuguese cop who works with the Nazis out of necessity but not conviction. There's even a variation on the romantic triangle of "Casablanca" at the center of the romantic tension between Henreid and Lamarr.
Unlike its inspiration, this is very much standard studio fare, with overwrought dialogue and romantic overkill (Hedy Lamarr isn't much for showing emotion so she has to verbalize it all), and the resistance cell is more social club than fighting force. Negulesco doesn't necessarily overcome the material but he, along with a cast of character actors having fun with their roles, delivers an entertaining Hollywood espionage melodrama. Negulesco shows a flair for this kind of material, opening the film with great energy and swiftly carrying us from the action of the Dutch resistance to the shadowy underworld of Lisbon. Henreid's entrance into the city's nightclub of note (not quite the film's answer to Rick's) is a terrific web glances and nods, an atmosphere of surveillance where everyone is watching everyone else, dropping loaded comments and slipping out of the clubs and into the shadows. While I wouldn't exactly describe it as classic film noir, it could certainly be included in the conversation.