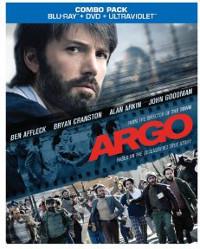 Argo (Warner), the third feature from actor-turned-director Ben Affleck, was released early in October, just before the traditional roll-out of high-toned dramas and Oscar-bait showpieces gets aggressively competitive, and debuted to glowing reviews, enthusiastic audiences, and impressive box-office. Pretty good for a real-life drama about the stranger-than-fiction rescue of the six Americans who escaped capture when Iranians stormed the U.S. Embassy and took American hostages. But then it's a savvy picture that takes a few liberties with the historical record to create a nail-biter of an escape thriller.
It was an early Oscar favorite, then lost momentum as the season rolled ahead and competition heated up. For reasons still not clear, Ben Affleck was passed over as a Best Director nominee and even though the film snagged seven Oscar nominations – an impressive count by anyone's standards – it seemed to have lost its luster. Then it caught its second wind: a Best Director award from the DGA, Best Director and Best Picture Golden Globes, an award for the ensemble cast from the Screen Actors Guild, and BAFTA wins for Best Picture and Best Director. Now, as handicappers tip "Argo" as for the Best Picture Oscar, it arrives on disc and digital delivery less than a week before the Academy Awards.
Awards hype aside, Argo is a terrific piece of filmmaking. Not Zero Dark Thirty brilliance or Life of Pi beauty, mind you, but a solid, well-made film with personality, humor, drama, tension, and a superb sense of time and place. Affleck and screenwriter Chris Terrio establish the era and the complicated history that created the Iranian situation smartly and efficiently, and Affleck seamlessly combines actual news footage with recreations that segue into the story at hand. And while I'm not convinced that the escape-movie contrivances that drive the film's final act necessary to communicate the stakes of this mad plan, there is something oddly appropriate in the way this meeting of Hollywood fakery and true-story spycraft plays out like a movie.
Read More "Blu-ray/DVD: Ben Affleck's 'Argo' and the silent spectacle of 'The Thief of Bagdad'"