Whoever dies at the stroke of midnight on New Year's Eve is doomed to drive Death's carriage for the next year, collecting the souls that pass on and carrying them to the afterlife.
This bit of folklore is the narrative conceit on which The Phantom Carriage rests. It opens as a supernatural tale — part ghost story and part religious fable — but soon reveals itself as a tragedy.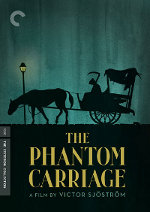 "Send for David Holm," asks the dying Edit (Astrid Holm, looking saintly in her suffering), a devoted and dedicated Salvation Army sister with consumption. She's surrounded and worried over by everyone but David (Victor Sjöström), a shameless drunkard who refuses to attend her and remains (ominously and fittingly) in a graveyard to swap stories to his carousing buddies. He drinks to George (Tore Svennberg), the swell of a crook who made David what he is today and the man who told him of the legend of Death's driver. Both will visit David before the night is over, taking him on a kind of ride through his past, a spin on A Christmas Carol with George as his Jacob Marley and David as a wretch of a Scrooge. His legacy is measured in the misery he caused and the lives he destroyed and he's forced to watch the cruelty of his life on the eve of his death.
Directed by and starring Victor Sjöström, the father of Swedish cinema, from the novel by Nobel Prize-winning author Selma Lagerlöf, The Phantom Carriage is one of the masterpieces of Swedish cinema and its reputation is well deserved. Where most of the great Swedish classics of the era were sweeping sagas set in the rugged landscape of grand outdoors (such as Gosta Berling's Saga and Sjöström's own The Outlaw and his Wife), The Phantom Carriage is an intimate work created in the controlled environment of the studio. Where the sagas were visually muscular and set against vast natural landscapes, this is delicately-crafted, carefully lit and composed and performed with an understated intensity, in particular Sjöström himself as the reprobate David. The once responsible family man changes into a reckless ne'er do well who corrupts his young brother and terrorizes his wife and children and then slips even slips into complete misanthropy as a bitter and vengeful drifter searching every small town to find his runaway wife. When Sister Edit, the idealistic young officer in the Salvation Army posted to a small rural town, determines to redeem David when he comes looking for a bed, he responds with contempt and cruelty. Sjöström's restrained performance makes David all the more terrifying. His brooding manner and sneering looks communicate quiet disdain and a vicious misanthropic streak (a consumptive, he freely coughs in the faces of the healthy "to finish them off quicker") until he loses himself in drink, when his anger spills out into violence.