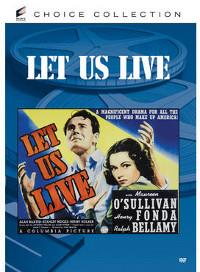 John Brahm was part of the grand flight from Germany during Hitler's reign. Born Hans Brahm, he trained on the stage and shifted to cinema, making his directorial debut in 1936 (a British remake of "Broken Blossoms") and his Hollywood debut a year later. His legacy rests on a pair of early gothic film noirs, his handsome 1944 remake/revision of Alfred Hitchcock's "The Lodger" and the 1945 follow-up "Hangover Square," both starring the great character actor Laird Cregar, a longtime heavy that Brahm promoted to dark, troubled leading man status. Both of those are on DVD from Fox (in a box set with his earlier B-movie production "The Undying Monster"), but until recently that was almost all that was available of his film work. Thanks to the proliferation of manufacture-on-demand releases, his available features on disc have about doubled.
At his best, John Brahm had a handsome sense of design, a strong feeling for interesting women characters, and a Gothic sense of the shadows hanging over life, just threatening to move in and swallow us.
That's right up front of Let Us Live (Sony Pictures Choice Collection), a 1939 proto-noir with Henry Fonda as a taxi driver arrested, convicted, and sentenced to death for a crime he didn't commit (Fonda's second time, after "You Only Live Twice"). It anticipates Hitchcock's "The Wrong Man" in a low key, but with an emphasis on heroine Maureen O'Sullivan, the tirelessly supportive girlfriend turned plucky investigator who teams up with a maverick police detective (Ralph Bellamy).
What Brahm brings to the film is a terror born of official indifference — neither the District Attorney's department nor the police will look into possibly exonerating evidence after Fonda and his equally innocent buddy have been handed the death penalty — and he turns the race to stop the execution into a battle with bureaucracy. It's not a matter of corruption, merely the banality of power and privilege over compassion, and the distinction is not lost on Brahm. In place of a happy ending, he leaves a man broken by his ordeal and a film without any faith in the system or the gatekeepers who are supposed to be more interested in justice than job security. Sony has a great track record with their MOD releases and this is no exception. It's a solid, well-mastered B&W print.
The Locket (Warner Archive) is prime film noir from 1946, a dark romance that stirs darkness into melodrama with the story of a kleptomaniac (Laraine Day) on her wedding day, an event interrupted with a circuitous flashback (and then a flashback within a flashback within the flashback, which I think is a record, at least for an American film) that reveals her shadowy history. Not that she's a killer, merely a compulsive thief and a woman in the shadows of denial.
Robert Mitchum (still a rising young star at the time) brings his easy intensity to the role of her first husband and Brian Aherne is the film's authority figure, a psychiatrist who explains all in the labyrinthine layers of flashback, while cinematographer Nicholas Musuraca (RKO's house specialist for mood) layers the screen with smothering shadows and a claustrophobic atmosphere. The darkness of this noir world isn't a matter of violent crime or fatal betrayal, but the shadows of memory and guilt and obsession in the damaged psyche of a beautiful woman. It provides all the doom and darkness you could want. The Warner Archive print is excellent.
The Brasher Doubloon (20th Century Fox Cinema Archives), made the very next year in 1947, is something of a B+ movie, a low-budget treatment of Raymond Chandler's "The High Window" made with ambition and style, at least in key scenes. George Montgomery makes for a light, easy-going Philip Marlowe, a snappy, streetsmart guy with more confidence than command. He's hired to retrieve a valuable coin and uncovers a blackmail scheme that his employer would rather keep buried. Nancy Guild co-stars as Merle, an emotionally-icy young secretary fiercely devoted to her matron (Florence Bates), a millionaire widow who treats Merle with a callousness verging on contempt. Brahm reserves his contempt for her spoiled son Leslie (Conrad Janis), a juvenile delinquent with an expense account.
Brahm seems rushed through much of the production, dutifully pushing through interrogations and exposition. But when Marlowe stumbles across a murder victim, the film takes on a sudden urgency: the camera takes to startling angles and distorted compositions and the screen becomes criss-crossed with shadows and frames closing in on Marlowe. Cinematographer Lloyd Ahern has his moments of inspiration, surely pushed by Brahm in those instances, but is merely functional for the balance of the film. The Fox disc is somewhat washed out and scuffed up, but it's perfectly watchable.
The Mad Magician (Sony Pictures Choice Collection), made in 1954, is clearly cashing in on the success of "House of Wax." It's got Vincent Price as another artist turned killer, a screenplay by Crane Wilbur, a period setting, and grisly murders and visual stunts in 3D (the disc is standard, but when you see a stream of water shot into the lens, there's no question of its origins). Price plays an inventor of magic-act props and tricks who is betrayed by his controlling boss when he tries to strike out on his own. The mild-mannered inventor turns murderer and turns to an elaborate cover-up to continue his reign.
Overly complicated and under-developed, this stock horror has its moments of invention, and Brahm even quotes from his own glory days of Gothic noir: the rented garret hideaway of the 1944 "The Lodger" and the bonfire piled high with sticks and furniture, the perfect place to get rid of a corpse, from "Hangover Square." The rest is just another knock-off rushed through on the cheap by a director who gives his best in trying circumstances, but it could be the template for the kind of films Price would go on to make for William Castle. The disc is nicely mastered.