Has Sauron struck again? From the furious debates playing across DVD/Blu-ray forums, where some the most passionate fans and exacting collectors can be found registering their praise and displeasures with upcoming and new releases (often in hyperbolic dimensions and a hostile tone), you might assume that there's a new war brewing over the fate of the One Ring on Blu-ray.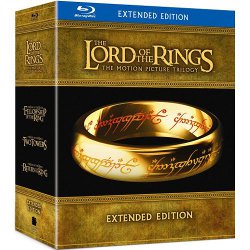 Warner released the theatrical editions of the The Lord of the Rings trilogy on Blu-ray last year but held the Extended Editions for 2011. Not just some longer version with deleted scenes cut back in, the Extended Editions were painstakingly reedited for home video by Peter Jackson with new special effects, a reworked score by Howard Shore to match the new rhythms of the narrative and some lovely scenes that were cut for time in the theatrical version of the film but add depth to the characters and the scope of the epic. They were released on DVD years ago. For Blu-ray release, Warner returned to the film's original 2K digital intermediate files (the final digital edition before striking film prints for theaters) for the source of the Blu-ray master.
Here's where it gets complicated. While the masters of The Two Towers and Return of the King were completed digitally, The Fellowship of the Ring was partly digital master but mostly completed on film, where it was color-timed photochemically rather than digitally. For the theatrical release on Blu-ray, Warner used a digital master taken from a release print, but for the extended edition, Jackson wanted to rescan the original elements to get the most visual detail and clarity, and them retime the color for home viewing, adjusting the brightness, intensity and hues to best effect on TV monitors. So while The Two Towers and Return of the King were mastered from the same source as previous release, The Fellowship of the Ring was not.
That's the simplified version of a very complex, but the upshot is that the Fellowship of the Ring: Extended Edition Blu-ray looks different from all previous incarnations (film, DVD and Blu-ray) of the film.