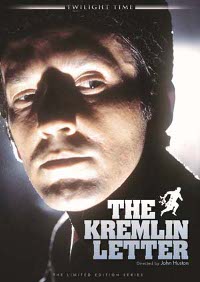 The DVD debut of John Huston's sprawling, globetrotting 1970 espionage thriller The Kremlin Letter is also the debut release of Twilight Time, a new boutique DVD label (that's actual pressed DVDs, not DVD-R or MOD) featuring limited run releases of select titles from the 20th Century Fox library. The creation of Warner Bros. veteran Brian Jamieson and filmmaker/music restoration specialist Nick Redman, the label is initially slated to release one disc a month (and later perhaps more), all from the 20th Century Fox catalogue, all from Fox digital masters, all in limited edition runs of 3,000 units.
"All our releases will be properly manufactured DVD's and Blu-Rays – we were not interested in the DVD-R's, as we feel they do an injustice to the titles in the long run," explains Brian Jamieson. "While I'm sure collectors will find they fill a void in their collections, but we wanted to deliver a quality product, something that meets our own expectations and something we could be proud of. We love the old Fox film classics, especially from the 50's."
John Huston has been accused of cynicism in his films but The Kremlin Letter, a complicated plot of Cold War spy games is the most cold-blooded portrait of an mercenary world he's ever presented. Charisma-challenged Patrick O'Neal is the ostensible leading man here, playing a career Navy officer coerced into joining a covert private team and go behind the Iron Curtain to retrieve a diplomatically dangerous letter, but in the scheme of things he's just another player in a big, messy, tangled ensemble piece. Richard Boone is the standout as a hearty bear of an intelligence veteran who mentors O'Neal in the insidious games played in the name of counter-intelligence, and George Sanders (first seen in drag playing piano in a gay lounge), Nigel Green (a pimp in Mexico), Dean Jagger (hiding out a country vicar) and Max Von Sydow (as a deadly Soviet assassin who, haunted by his past, may be the most human figure in the bunch) fill out the deadly rogues gallery.
The colorful figures and their elaborate schemes (involving extortion, seduction, prostitution and the drug trade) is like Mission: Impossible in the unforgiving culture of international espionage of John Le Carre's double agents and plots-within-plots. This is not a world where trust gets you anywhere and even the so-called good guys resort to subterfuge and manipulation in dealing with their own people. The personal endgames drive the international agenda and the players are expendable pieces in the elaborate international chess match.
Read More "It's Twilight Time: The Kremlin Letter and Violent Saturday debut on DVD in limited editions"