Icons of Sci-Fi: Toho Collection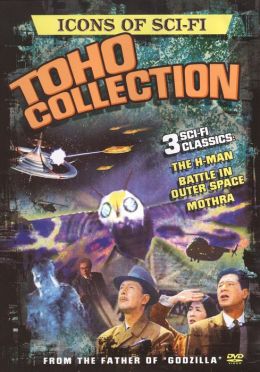 Though his name is conspicuously absent from the cover, the Icon of Sci-Fi celebrated in Sony's three-disc set is Ishiro Honda, the prolific director of the original Godzilla and a legendary run of giant monster movies. This collection from Sony highlights his science fiction output with the stateside DVD debuts of three films, a mere fraction of his genre filmography.
The H-Man (1957) is not a man at all but a gooey radioactive slime (the original Japanese titles translates to "Beauty and the Liquidman") that slurps into Tokyo, starts oozing up legs of gangsters and digesting them in seconds flat. It's a monster movie horror within a cop crime drama, with detectives investigating a drug ring where all the suspects keeps getting dissolved. Motivation for the hungry, hungry puddle is vaguely suggested by a scientist who reads a headline about a missing suspect and immediately suspects radioactive hanky panky, but it still doesn't quite explain why it invades the nightclub where all the gangsters hang, unless it absorbs the instincts of its victims as well. At least it that would explain its obsession with nightclub singer Chikako Arai. There are some great ooze effects of the gelatin spill going up walls and some dummies that deflate in place of victims being boiled into mush. The optical effects with freeze frames and animated slime are far less effective and for some reason they periodically turn into big green ghosts.
Battle in Outer Space (1959) is a visually splendid and narratively pedestrian space opera, short on character and plot but full of great miniatures and dramatic effects in a film packed with spectacle. It's not just ships zapping each other with lasers in the dark void of space; there's a caterpillar surface transport crawling over the rocky volcanic moonscape, a shoot-out with a fleet of flying saucers, a mind-controlled assassin sabotaging a human rocketship and of course the alien assault on Earth landmarks in the final battle. They may look like toys in flight, but they are they best toys a sci-fi geek could behold on screen in 1959, which alone makes it a genre highlight.
Read More "Honda's Sci-Fi, Cassavetes' Husbands, Tati at Play – DVDs for the Week"