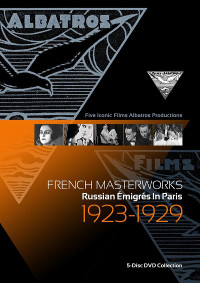 French Masterworks: Russian Émigrés in Paris 1923-1928 (Flicker Alley) presents of the stateside DVD debut of five silent classics from Film Albatros, a French studio founded by Russian artists: The Burning Crucible, Kean, The Late Mathias Pascal, Gribiche, and The New Gentlemen.
Three of the films star Ivan Mosjoukine, the great Russian actor who fled the revolution and landed in Paris, and the other two are directed by Jacques Feyder. All of them are examples of the sophisticated filmmaking coming out of France in the twenties.
Which is not to say that they are all masterpieces — The Burning Crucible (1923), which not only stars Mosjoukine but is written and directed by the actor, is inventive and full of lively images and playful techniques but is all over the place and jumps willy-nilly through styles and episodes — but they are all tremendously entertaining and full of filmmaking energy. Mosjoukine plays eleven roles in The Burning Crucible, including the leading role of Detective Z, a man of many disguises, and Mosjoukine the director rolls Russian formalism, German expressionism, and French surrealism together in a simplistic but richly imaginative story that at times borders on craziness of Louis Feuillade's serials of the previous decade.
Mosjoukine also stars in Kean (1924) as the great 19th century stage actor Edmund Kean and in The Late Mathias Pascal (1926), the fantasy epic directed by Marcel L'Herbier that Flicker Alley released on Blu-ray earlier this year. I reviewed it for Videodrone here.
The final pair of films in the set are from Jacques Feyder.
Read More "Videodrone: 'French Masterworks: Russian Émigrés in Paris 1923-1928'"