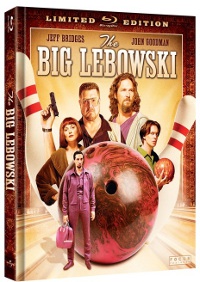 Rolling Stone once called it "the most worshiped comedy of its generation." I like to think of it the Book of Duderonomy, the lost gospel of the post-modern Testament. Now the beloved Coen Bros. classic of easy living and competitive bowling on the absurdist mean street of Los Angeles arrives on Blu-ray. Presenting The Big Lebowski: Limited Edition (Universal). You'll like its style, man.
Jeff Bridges is brilliant as the Dude, one of the most strangely centered individuals in the movies. This bowler/stoner/free spirit is mistaken for a millionaire (David Huddleston) by a band of German punk nihilists, and John Goodman is his Vietnam Vet bowling buddy, who sinks him deeper into trouble with one testosterone-and-rig?hteous-indignation-f?ueled scheme after another. Think of it as a slacker "The Big Sleep," a shaggy dog parody of classic L.A. detective stories where the passive hero is threatened, confronted, assaulted, seduced, drugged and so completely bummed out that he's forced to solve a mystery so everyone will just leave him alone to enjoy his dope and his Dylan.
The Coens concoct an absurdist Chandler-esque mystery, drop in a couple hilarious dream fantasies (including a bowling dream sequence by way of Busby Berkley, complete with credits), and even bring in a drawling Sam Elliot to narrate this tall tale like a western myth. Julianne Moore co-stars as an avant-garde artist turned Valkyrie fantasy, and Steve Buscemi, Peter Stormare, Philip Seymour Hoffman and Ben Gazzara co-star.
It's not the most successful, famous or critically acclaimed film by the Coen Bros., but it surely has the most dedicated fan base. In fact, the Blu-ray was launched at Lebowskifest 2011, complete with a cast reunion and an audience Q&A.
You can get a brief glimpse of highlights from the evening at Videodrone. The complete cast reunion Q&A — a very groovy event with Jeff Bridges, John Goodman, Julianne Moore, Steve Buscemi, John Turturro and "music archivist" T-Bone Burnett — can be viewed via Livestream on the movie's official Facebook page. See Jeff Bridges lead the audience in a chant, hear John Turturro describe his idea for a sequel starring The Jesus (it's called, of course, "The Second Coming") and enjoy the group answering questions they can barely hear due to screwy stage acoustics. But you'll need to hurry — it will only be up for a week.