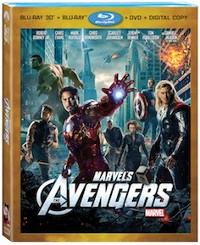 The Avengers (Disney), the Marvel comics superhero all-star team, is the most impressive example of synergy in the comic book movie industry to date.
Unlike The X-Men, which arrived full formed in 2000, The Avengers is the comic book version of the supergroup, with stars in their own right coming together (not without some friction and ego-thumping) for a battle royale. So Marvel put together a long term plan, launching their stars in a series of solo films and building an entire universe of heroes and villains for the screen.
They teased audiences with brief cross-overs and then, after years of setting it all up, brought together the team: Robert Downey's cheeky, cocky Iron Man, Chris Hemsworth's warrior prince Thor, Chris Evans' earnest Captain America, and Mark Ruffalo taking over as Bruce Banner and The Hulk (the third actor in as many films), giving the character a haunted, embittered edge. To round out the team, the film expands the role of Black Widow (Scarlett Johansson), a slinky superagent, from the second "Iron Man" film, and adds Hawkeye (Jeremy Renner), an archer marksman briefly seen in "Thor."  Samuel Jackson presides over it all as Nick Fury.
It could have been a disaster, with so many characters to juggle and personalities to respect while engaging  in a big, noisy, apocalyptic battle with no less than gods and aliens. And it was a measured gamble to bring in Joss Whedon, a man with well-earned fan credentials and an affinity for this kind of genre storytelling. No question that he brings smarts and style and self-aware wit to his productions ("Buffy the Vampire Slayer" on TV, "Serenity" on film) but his audiences have been, shall we say, small and passionate.
It was the perfect marriage of subject and sensibility. You wouldn't accuse The Avengers of being good drama but the sprawling, splashy spectacle and its much-much-much-larger-than-life heroes makes for a genuine comic book epic for the big screen.