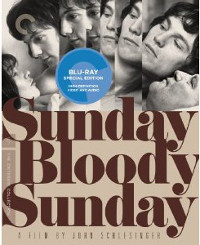 John Schlesinger could write his own ticket after Midnight Cowboy, which won Academy Awards for Best Picture and Best Adapted Screenplay and earned him the Oscar for Best Director. He chose to return to England to make a small, personal, intimate film.
Sunday Bloody Sunday explores a romantic triangle that has settled into familiarity for the three members. Actor/musician Murray Head is Bob, a handsome, charismatic, somewhat callow young artist and free spirit who refuses to commit fully to his lover Alex Greville (Glenda Jackson), a divorced employment counselor, and slips off to see Daniel Hirsch (Peter Finch), a quiet, sensitive, middle-aged physician who treasures whatever stolen moments he is gifted with. Alex and Daniel know that the other exists but there's an unspoken agreement that they don't talk about it, for their own piece of mind as much as Bob's. As the film progresses we learn there is more between them than a shared younger bi-sexual lover. It could make the whole arrangement quite lurid but for Schlesinger's mature and compassionate approach.
Sunday Bloody Sunday came from an idea developed by Schlesinger himself and he brought on Penelope Gilliat, a novelist and film critic with no previous screenwriting credits, to write the script. He had taken on social realist drama in A Kind of Loving and the swinging London and sexual liberation of the sixties in Darling. Sunday Bloody Sunday acknowledges both worlds but belongs to neither. This is a kind of loving in the everyday lives of successful, mature adults yearning for fulfillment and not quite getting it, and Schlesinger eschews the stylistic flash of previous films for a quieter, more intimate approach. It's not calm so much as oppressive, an atmosphere of disillusionment and disconnection, where anxious phone calls are answered by a tetchy, nosy answering service operator and Alex and Daniel both wait for their lover to find time for them.