20th Century Fox finally follows the leads of Warner, Sony, and MGM and launches their own manufacture-on-demand program aimed at releasing some of the older titles from the vaults, the kinds of "catalog" releases that no longer sell in the DVD sales crash. The 20th Century Fox Cinema Archives debuts with 35 titles in the first wave.
The first wave of releases is now available and the results are… mixed, to say the least. Here's my review of the first three discs I received.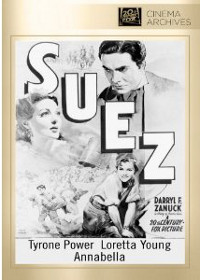 Suez (1938), directed by Allan Dwan and starring Tyrone Power, is one of the better of the big, "respectable" historical dramas that Power made in the thirties and early forties, in the mold of Lloyds of London and In Old Chicago (both previously released by Fox in DVD box sets) but with a grander sense of spectacle. Power's Ferdinand de Lesseps is engineer, entrepreneur, and diplomat, negotiating support from Napoleon III in France and Prince Said in Egypt, battling sandstorms, enduring political catastrophe (being a Hollywood history, Napoleon III's coup is as much a personal betrayal as a national one) and romantic treachery (lover Loretta Young throws him over for a much more politically advantageous suitor) with the pluck of… well, Tyrone Power.
This is classic Hollywood historical melodrama, with dynamic individuals changing history with a mix of vision and sheer fortitude, and a whirlwind tour of geopolitical history as drawing room drama. Annabella plays a spunky, spirited Egyptian girl devoted to the oblivious Ferdinand (again classically Hollywood, the Americans play the French while the film's French star plays the exotic "foreigner"). Allan Dwan, a silent movie pioneer whose long career began in the pre-feature era and straddles blockbuster epics (Robin Hood with Douglas Fairbanks) and low-budget comedies and everything in between, keeps the potentially stodgy material moving at a lively clip, giving the political maneuverings a dramatic flair and a personal dimension, and delivering a spectacular sandstorm that remains the film's standout sequence.
This is the best looking disc of the initial batch I received, a fine mastering of a clean, strong print, with good contrasts and sound and no apparent digital artifacts: a solid presentation of a handsome Hollywood classic.