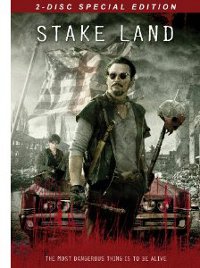 The similarity in the title of the indie vampire drama Stake Land (Dark Skies/MPI) and the 2009 comic zombie road movie horror Zombieland is coincidental but fitting, as much for the differences in the films as for the similarities. There's a plague turning humans into undead creatures out for blood, an orphaned boy (Connor Paolo as Martin) learning to survive, a father figure (Nick Damici) with an unspoken past (he's simply known as Mister to one and all) and rumors of a safe place far away. And the vamps here are a lot more like zombies (by way of feral carnivores) than the social creatures we associate with vampire cabals.
But the similarities end there. This is no gallows comedy, it's a survival drama that has more in common with The Road or George Romero's late Dead films, but without the soul-crushing bleakness of the former or the horror-as-spectacle of the latter. The cabal here is a fringe Christian sect turned authoritarian cult that thinks the bloodsuckers were sent by God to cleanse humanity and they figure anyone who doesn't tow their line needs a fatal cleansing. Quite frankly, they are scarier than the vamps.
The symbolism isn't all that subtle and the backwoods fanatics tend toward hysterical stereotype—neo-Nazi nightmare by way of survivalist nutcase—but director Jim Mickle and co-screenwriter Nick Damici keep the film focused on the people and the relationships. There's a scruffy immediacy to the direction—low budget production, practical locations and shooting on the fly—but also a grace to the imagery and a commitment to the performances. These characters don't break loose and confess all, but the sense of comfort they find in one another warms the film.