Henri-Georges Clouzot's Inferno (Flicker Alley)
Serge Bromberg is one of the most dedicated film preservationists in the world today. Henri-Georges Clouzot's Inferno, his documentary on the legendary unfinished film, represents a different kind of detective work but the same spirit of discovery, preservation and presentation of cinema saved from neglect.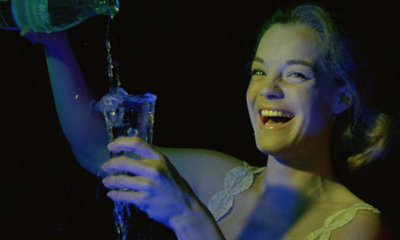 In 1964, French director Henri-George Clouzot—a man at the top of his game and his fame for such films as The Wages of Fear, Diabolique and La vérité (though largely forgotten today, it was an Oscar nominee and a Golden Globe winner for Best Foreign Language Film)—was given carte-blanche by Columbia Pictures to make a dream project. His film, a portrait of obsessive jealousy in a husband (Sergio Reggiani) who becomes insanely paranoid and maniacally controlling of his beautiful young wife (Romy Schneider, then one of the most luminous stars in Europe), collapsed in the director's own obsessive camera tests and experiments, increasingly demanding direction and endless reshoots. He pushed the production overbudget and over schedule, drove his leading man to quit in exasperation and became distracted in exacting minutiae at the cost of the big picture. When a heart attack leveled him, the producers to pull the plug. It's like Hearts of Darkness as reconceived by Werner Herzog as an epic failure: one man's vision and creative ambition fueled by obsession and growing megalomania and laid low by the limits of physical reality, production economics and the limits of his own body.
Serge Bromberg's documentary (co-directed with Ruxandra Medrea Annonier) is a peek into a film that never was through a rich collection of rushes and camera tests, unseen and forgotten for decades until Bromberg tracked it down and negotiated access to the preserved and protected reels. The footage (some of it in raw, undeveloped form until Bromberg's involvement) reveals an artist searching for new expressive ways to explore jealousy and madness on film, but also a relentlessly ambitious artist looking for new ways to express himself. When Clouzot began production, it had been four years since he had made a film and the freewheeling directors of nouvelle vague had become the young turks of film art in the meantime. He had something to prove to them, to the critics and to the public. And possibly to himself.
Read More ""Henri-Georges Clouzot's Inferno" – Portrait of the Artist as a Mad Man"