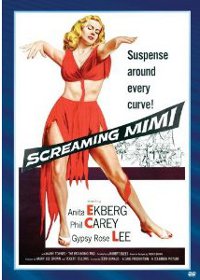 Screaming Mimi (Sony Pictures Choice Collection), directed by Gerd Oswald from a novel by Fredric Brown, is a real cult item in the film noir filmography, weird and lurid and kitschy, but fascinating all the same. Anita Ekberg stars as Yolanda, an exotic nightclub dancer who survives an attack from a serial killer and becomes much more than a story to "night beat" reporter Bill Sweeney (Philip Carey), a combination crime reporter and nightlife columnist who accepts free drinks from the clubs he plugs. Carey comes off as an oily Richard Carlson, a B-movie version of a second-tier performer, while Ekberg is pure sexual fantasy: voluptuous, scantily clad, dancing as if in a trance, and inviting the reporter's advances with every glance. Or at least it seems to Sweeney, who clashes with Yolanda's possessive manager (Harry Townes) as he traces the killer back to the Screaming Mimi of the title, a statue of hysterical woman.
A hothouse atmosphere of sex and obsession pervades this picture, as much due to the low-rent environs of the low budget sets as to the nightlife culture itself. Her manager is also her doctor (from when she was the best dressed patient in the asylum) and, we can assume, her lover, while the nightclub matron (Gypsy Rose Lee) shows an equally possessive interest in the petite cigarette girl (Linda Cherney), who she keeps around like a pet. I don't know if "tea for two" was a cultural euphemism for female couples, but when Sweeney says it, it sure sounds like it. And when Yolanda runs out on the reporters and spends the night at Sweeney's home, the two cigarettes burned to butts side by side in the ash tray says all you need to know about the sleeping arrangements, regardless of the fact that she emerges from a separate bedroom. Oswald knows how to cue the details of this dime novel world behind the restrictions of the production code. Even the deficiencies of the performances, from Ekberg's breathy vacancy to Carey's smugness to Gypsy Rose Lee's overworked folksiness and sass to Red Norvo's smart-aleck jazzbo comments, add to the weirdly off-key tone. The screenplay is largely faithful to Brown's novel, except that it irons out his storytelling twists, dropping the detective story discoveries into the prologue. Curiously, it doesn't affect the mystery much, it merely establishes the sordid attitude much earlier.
The disc is presented in 16×9 anamorphic widescreen, approximating the original release aspect ratio just fine, and the image is solid, from a clean, well-kept black-and-white print.
The Big Night (MGM Limited Edition Collection), the final American film made by Joseph Losey before he fled Hollywood and the blacklist for Europe, has a title just generic enough to suggest anything from a musical extravaganza to a teen sex comedy. But vagueness aside, it's really quite a provocative youth noir with John Drew Barrymore as an angry young man out to revenge the brutal beating of his old man (Preston Foster), a modest barkeep, by a bullying sports reporter with the marvelously ironic name of Al Judge (Howard St. John). Neither juvenile delinquent drama or a wild youth thriller, this is a portrait in rage and shame and disappointment in fathers and father figures. On this big night, as he arms himself with a handgun and hunts down the newsman, he is let down by one authority figure after another, from his father to a friendly but cowardly professor who takes him under his wing to a corrupt, predatory cop in the pocket of Judge. This is some coming of age as he discovers over this long night that his heroes and the authority figures he's been taught to respect are not merely flawed, but often corrupt, petty, and unreliable.
Losey made this for an independent producer on a small budget but his direction is commanding, making his odyssey through the city at night into a journey through the heart of darkness. John Drew Barrymore (billed here as John Barrymore, Jr.) never really established himself as much of an actor (though I'll always love him for his beat poetry history lesson in High School Confidential), but Losey pulls a vivid, tormented character out of him here, almost dizzy with hurt and fury and confusion as he pushes himself to follow through on his vengeance. There is a powerful undercurrent to this modest production.
The Black Book (Sony Pictures Choice Collection) is another kind of cult noir: pure American urban film noir sensibility dropped into the Terror of the French Revolution, with guys and dames in flouncy costumes and flamboyant hats talking like gangsters and street thugs. It's been available in some truly wretched PD editions, until VCI released a decent copy a couple of years ago. While it was fine, this edition is far superior, really providing an appropriate showcase to Anthony Mann's shadowy scenes of death and double crosses in the alleys and dungeons of 18th century Paris as suggested on backlot sets. This is, in a word, formidable!
Also recently released:
The Missing Juror (Sony Pictures Choice Collection), one of the very first features helmed by westerns master Budd Boetticher (credited as Oscar Boetticher, Jr. early in his career), is a typical B-movie mystery about a glib newspaperman (Jim Bannon) chasing a story about members of a high-profile jury turning up dead. What should be an ominous thriller is knocked off-balance by outsized personalities and comic by-play, like a film trying to split the difference between crime movie, screwball romance, and snappy newspaper film, all played out on cheap backlot sets. Boetticher doesn't bring much to the film beyond energy: this film moves along with a momentum that almost fools you into thinking there's something going on.
Vice Raid (MGM Limited Edition Collection) gives top billing to Mamie Van Doren, playing a brassy working girl hired by mobster Brad Dexter (in smirking sleaze mode) to frame incorruptible cop Richard Coogan (a charisma-free stiff), who gets kicked off the force and goes rogue to take down the syndicate. Mamie is actually the classiest thing in this cheap little crime 1959 knock-off from Imperial Pictures, which isn't really noir as much a noir by product. It never creates an appropriately sordid atmosphere to match the culture of corruption, just a general generic sleaziness. The disc is presented in the square 1.33:1 format (what was once called full frame, a term that has become rather confusing in the era of widescreen monitors), but was shot to be seen wider and is better watched zoomed to fill the 16×9 screen.
Sony Pictures Choice Collection:
Screaming Mimi
The Black Book
The Missing Juror
Available by order only from Sony Pictures Choice Collection, from Amazon, Critics Choice Video, Classic Movies Now, Warner Archive, and other web retailers.
MGM Limited Edition Collection:
The Big Night
Vice Raid
Available by order only from the MGM Limited Edition Collection, from Amazon, Screen Archives Entertainment, Critics' Choice Video, Classic Movies Now, Warner Archive, and other web retailers.
MOD stands for "Manufacture on Demand" and represents a recent development in the DVD market, where slipping sales have slowed the release of classic, special interest and catalogue releases. These are DVD-R releases, no-frills discs from studio masters, ordered online and "burned" individually with every order. You can read a general introduction to the format and the model on my profile of the Warner Archive Collection on Parallax View here and on the MGM Limited Edition Collection on Videodrone here.