Roger Corman is the world champion of cinematic recycling. Why waste the potential of a set on a single film when there's a hungry young aspiring director ready to cobble together a second feature and shoot on the set in the days (and nights) before it's torn down? A couple of good films (and a whole lot of B-movie fodder features) were created because Corman played every angle of an asset, whether if be a particularly lavish set, a couple of days left on an actor's contract or an expensive stunt sequence that surely could be reused in another feature or three.
One of his favorite tricks was to buy up the rights to science fiction films from behind the Iron Curtain and have movies built around the special effects and/or action sequences. Two of these productions recently came out on the MGM Limited Edition Collection, one of the more robust MOD (manufacture on demand) lines currently pouring out its catalogue.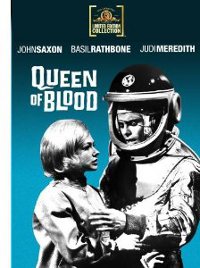 Queen of Blood (1966), directed by Curtis Harrington, is arguably the best of the Corman-produced recycling jobs and as fun a haunted spaceship film as there was until Mario Bava's  Planet of the Vampires.  The special effects and alien ship came from a pair of big budget Soviet productions that Corman bought simply to cannibalize, notably Nebo zozyot (which a young Francis Ford Coppola previously turned into Battle Beyond the Sun, 1962, for Corman), and the plot reworks It! The Terror From Beyond Space (which provided the premise for Alien as well), with a green-skinned blood-sucking siren (Florence Marley) subbing for the marauding lizard of It! John Saxon, in All-American hero mode, is the leader of the three-person space mission that finds the ship floating in space and Judi Meredith and Dennis Hopper fill out the crew.
Harrington, who came to genre filmmaking via avant-garde films (including collaborations with Kenneth Anger) and the wonderfully spooky Night Tide, a mix of horror, fantasy, character study and mood piece, creates his own film out of these elements, which he shot in a brisk ten days. The delicious imagery of the Soviet films, from the eerie planetscapes to the dreamy shots of ships in space to the delirious color-drenched interiors of the derelict alien ship, give the film a sense of scale and detail that Corman couldn't hope to provide. The American side of the production tends to skimp on the American spaceship and space station sets. Basil Rathbone delivers his role seated at a minimalist control center that makes the Star Trek TV bridge look absolutely epic, ordering the astronauts via  microphone (no view screens in this budget) to keep this specimen alive at all costs.
Read More ""Queen of Blood" and "Blood Bath": Lessons from the Roger Corman School of Cinematic Recycling"