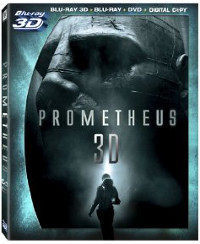 Ridley Scott has taken pains to explain that Prometheus (Fox) is not a prequel to Alien, but a film that comes from the same DNA. That's a bit disingenuous, considering how meticulously (and often very cleverly) it sets up the building blocks of Alien, but his pointed use of the term DNA is telling. It opens with a very different answer to Genesis, where Earth is seeded with alien genetic material, and then jumps ahead a few billion years to follow a crew of scientists (including Noomi Rapace) retracing an ancient trail through the stars left behind by the ancients.
Mirroring Alien, we have a colorful crew (this time mostly scientists), a corporate directive (monitored by Charlize Theron), and an android (Michael Fassbender, superb) on the bridge charged with completing that directive, but otherwise this is far from the gothic monster movie of the 1979 original. At its most ambitious, Prometheus plants suggestions of the extraterrestrial origins of life on Earth, a Godlike race sowing genetic seeds across galaxy, and even an Old Testament-like sense of retribution, or at the very least a feeling of failure that calls for a reboot.
With all this happening, I'm left with a nagging question: How can Ridley Scott have such a sophisticated visual intelligence, creating screen worlds engineered in such detail as to suggest entire cultures behind the designs and technology, and then fill those worlds with characters who are supposed to be scientists yet act like kids in a playroom? Seriously, the reason these supposedly top scientists of the late 21st century keep yelling "Don't touch anything" to each other is because otherwise they'll fingerpaint their way through the most important scientific discoveries since the mapping of the human genome.
The script fails to match its ambition, but at least give it credit for big ideas, unexpected conceptual turns, and a dense and dramatic visual experience. "Prometheus" hints at something bigger, more cosmic and philosophically daring, than what the characters actually manage to grapple with on screen. And for all its failures in the realm of human behavior, the cosmic mystery behind the story is enigmatic and remains so to the end. In leaving us with mysteries, it offers something far more satisfying than a reductive answer. It leaves us with possibilities.