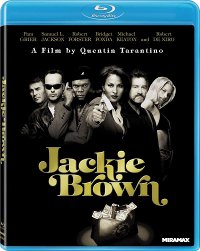 [Expanded from a feature originally published in 1997 in Seattle Weekly]
"Amateurs borrow, professionals steal," goes the maxim. Quentin Tarantino steals like a pro. Where directors of the previous generation peppered their films with classic cinematic quotes, Tarantino plunders the films of his formative years for ideas – mostly B-movies and exploitation films about cars and capers and criminals – and riffs on them with a mix of reverence and sly playfulness.
Tarantino's films aren't so much stories as strings of anecdotes: movie moments, urban myths, conversations strewn with pop culture references. His challenge with Jackie Brown is how make someone else's story—Elmore Leonard's Rum Punch, to be specific—his own. His solution: set it in his own reference riddled world. From the film's opening shot—a quote from The Graduate overlaid with early seventies movie lettering and set to a Motown tune—we know we're in Tarantino territory.
Pam Grier's entrance in her retro stewardess outfit introduces the kick-ass star of Foxy Brown and Friday Foster gracefully aging into the modern world. Robert Forster, the almost star of the late 60s turned exploitation film stalwart (see Alligator and Vigilante), brings the understated authority that marked his genre pictures to the lived-in ease age brings. That's the genius of Tarantino's casting. Jackie Brown is not some stand-in for Foxy Brown but a projection of where she might be 25 years later. Grier's persona is intertwined with the role, a middle aged woman with her back to wall who turns her situation around: from victim to player. With the weight of her career as an action star, Grier makes Jackie her own and dominates the screen with her energy and charisma.