Il Cappotto / The Overcoat (Raro)
Italian director Alberto Lattuada adapts and expands Nikolai Gogol's short story about a mousy clerk who gets a newfound respect when he purchases a handsome new overcoat in this little-seen classic from 1952 Italy. Overshadowed by the neo-realist films of the day, the satirical, smartly-made "The Overcoat" is just as contemporary and relevant as those acclaimed street dramas.
Renato Rascel, a comic actor and, according to Dave Kehr, a song and dance man, plays the meek scrivener Carmine De Carmine. He gives this mousy little clerk the hapless expression and submissive body language of the resigned patsy in a bleak human comedy, happy to toiling in the backrooms of city hall until he's hauled out to record an official meeting. His naïveté is all too obvious when he obliviously delivers the officials a mish-mash of disconnected fragments that nonetheless captures the pompous arrogance and back-room deals of the office. It almost costs him his job, until he overhears the Mayor talking with his mistress (Yvonne Sanson, the statuesque sex symbol of Raffaello Matarazzo's overheated melodramas). He never even realizes that the sudden "bonus" he uses to finally purchase his beloved coat is actually bribe money to keep him quiet. Not that it would even occur to Carmine, a well-meaning boob who takes pride in his calligraphic skills while the rest of the staff gossips and goofs the work day away, and attempts to champion citizen petitions ignored by the Mayor as he looks to cash in on an expensive archeological project with dubious merit.
The story ostensibly follows Carmine's sudden rise in respect when he finally purchases his beautiful new coat but it takes some unexpected turns (don't read the description on the back of the DVD case if you want the surprises preserved) and observes fragments of stories playing out in the periphery, all of which add both tender grace notes and wry satirical asides to the film. Moving the story from 19th century Russia to a small town in post-war Italy gives the story a new context, placing the portrait of petty bureaucrats and blithely corrupt politicians in the same real-world backdrop as the famed neo-realist films of the time. The askew angle on the blithe corruption and petty despotism of rural politics in the period of post-war rebuilding, where working class poverty is taken for granted next to the self-aggrandizement and small-scale decadence of local government, gives the satire a bite. But behind the bouncy caricatures and deft satire is a quiet humanism that sneaks up on the story and haunts the final images quite literally. In this desperate existence, all Carmine and the citizens neglected by its government ask for is simply a little regard and respect.
This Raro Video DVD release is mastered from a restoration by the Turin National Film Museum and is clean and relatively sharp. It features commentary by film professor Flavio de Bernardinis and his colleague Gabrielle Lucantonio (in Italian with optional English subtitles) and a 13-minute interview with contemporary writer/director Angelo Pasquini on Italian cinema of the era, plus 25 minutes of silent rushes from the production (much of it used in the finished film). Also includes an illustrated 20-page booklet with new and archival notes, essay and reviews on the film and the director.
Dave Kehr writes a superb piece on the film in the New York Times here.
Mysteries of Lisbon (Music Box)
Raul Ruiz's exquisite, elegant, nearly 4 ½-hour epic begins with an orphan boy in a Catholic boarding school searching for his identity. While his schoolmates have many names and titles, their rank becoming their identity, he is simply Joao, a boy with no background. But others have also recreated themselves, through marriage or money or status purchased with fortune and power, and the biggest mystery is the protective priest who watches over Joao. As the boy's ancestry unfolds in a magnificent tapestry of flashbacks that slowly weave a portrait out of dozens of characters and stories, so does the story of the quietly driven Father Dinis (Adriano Luz), which is inextricably tied to the boy's past.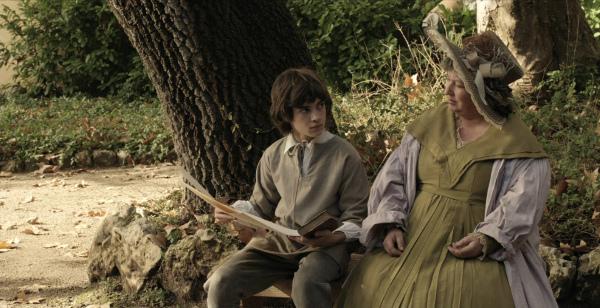 Chilean-born Ruiz is a director whose love of storytelling and narrative play is often more engaging than the films themselves but with Mysteries of Lisbon, an epic based on a classic Portuguese novel (one yet untranslated into English), his engagement with the characters and their defining stories guides his direction, and his graceful camerawork and unerring eye for images both classical (like paintings in a cinematic frame) and fluid (his camera moves with purpose and grace) are in the service of the trajectories of the characters. This is a film of labyrinthine storytelling and cinematic weaves of character and narrative that stretch across countries and time itself, rewinding for elaborate flashbacks that redefine everything we know and understand, and of compassionate insight into human nature and the contradictions that define us.
Ruiz died just as the film made its American debut, having completed shooting one last film before passing. I look forward to his swan song, as well as looking back through the scores of earlier films yet to be released in the U.S. Until then, I can lose myself in this magnificent production, which I chose as the best film of 2011, and the beautifully mastered Blu-ray presentation of Ruiz's elegant images.
In Portuguese and French with English subtitles. Music Box releases the film on DVD and Blu-ray, both of them in three-disc presentations. This is the theatrical cut of the film, which was presented in two parts and an intermission, and each part is given its own disc. The third disc is filled with supplements: a 40-minute video interview with Ruiz from the French TV program "CinéCinéma," a five-minute video interview screenwriter Carlos Saboga, a 28-minute French radio interview with Ruiz conducted by esteemed critic Michel Ciment (with English subtitles over a still image), a roundtable discussion on the film conducted for French TV and a featurette on novelist Camilo Castelo Branco made for Portuguese television. There is also an American trailer and a 10-page booklet with an introduction by Ruiz and an essay by Jonathan Rosenbaum.
United Red Army (Kino)
Koji Wakamatsu's United Red Army, an intense study of the extreme militant left movement in 1970s Japan, could be Japan's answer to Carlos, a chronicle of how the militant United Red Army came out of the student protest movement of the 1960s and transformed into an ideologically-confused, slogan-spouting revolutionary band. It's also historical drama as psychological thriller.
Most of the film takes place in the group's self-imposed exile in the mountains, where a training program becomes twisted by the megalomania of its leaders and their tyrannical cult-like domination. And just when you think you've slipped into a horror movie, Wakamatsu reminds us that, while this is a dramatization with fictionalized elements, it is based on history. The young zealots killed by their own comrades, and the would-be revolutionaries who fed into the cult of personality and enabled the abuse, were real people. Many of the survivors are still in prison. Though it runs over three hours long and is at times grueling, it is also utterly compelling and affecting. Japanese with English subtitles, no supplements. DVD only, with a weak image that suggests either poor mastering or an inferior bit rate. That's a disappointment in a film that is otherwise so riveting.
Available on Amazon:
The Overcoat (Il Cappotto)

Mysteries of Lisbon

Mysteries of Lisbon [Blu-ray]

United Red Army
For more releases, see Videodrone's Hot Tips and Top Picks: DVDs, Blu-rays and streaming video for January 17