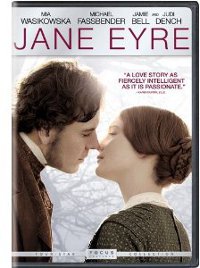 Jane Eyre (Universal), the new adaptation of Charlotte Brontë's beloved Gothic romance starring Mia Wasikowska as the fiercely self-possessed governess Jane and Michael Fessbender as the darkly attractive and grimly tormented Edward Rochester, is the best kind of reminder why the classics remain alive after centuries and can be effectively remade every generation or so.
This one comes from American director Cary Fukunaga and British screenwriter Moira Buffini, both interestingly making their respective second features in an American/British co-production. The otherwise beautiful and buoyant Mia Wasikowska is amazing as the plain Jane who glows with the fire of intelligence and a sense of self-worth that the most soul-crushing abuse can't smother. Michael Fessbender makes the most of Rochester's grandly cinematic entrance, charging into the film and into Jane's life with all the power of an untamed animal. The dark shadows over his spirit and the gruff edges under the moneyed manners makes him all the more seductive, which of course puts Jane on her guard even as it slowly seeps through her defenses.
Shot on wind-scoured landscape of the chilly highlands of Northern Britain, this new incarnation embraces the gothic gloom and lonely isolation of the novel but, like its stoic, strong heroine, never gives in to the darkness. It is gorgeous but never what you would call pretty. And for all of Jane's careful social front, never letting her true feelings show through, she is forthright and true and unfailingly honest.
Continue reading at Videodrone.
For more DVD and Blu-ray releases, peruse The New Release Rack and check out the Hot Tips and Top Picks for August 16.