Pier Paolo Pasolini directs Maria Callas in his 1969 interpretation of the ancient Euripides play, a tragic myth turned Greek tragedy that he stages in a stripped down, almost abstracted collision of the primitive and modern cultures in an ancient land.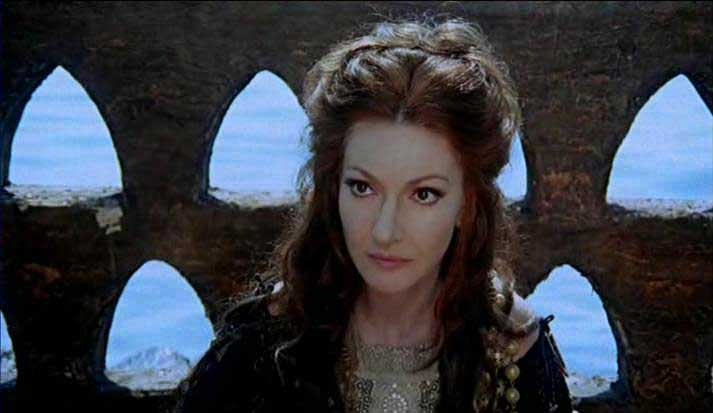 Pasolini strips the play down to symbolic, almost abstract expressions of scenes and ideas, like the cinema equivalent of hieroglyphics. The setting and backstory pours out in a long opening monologue delivered by a centaur (Laurent Terzieff) to the infant Jason, who he raises to manhood (played by the handsome but inert Giuseppe Gentile) over the course of the complicated family history lesson, and himself transforms from centaur to human man. Jason doesn't even notice, perhaps too distracted by his foster father's claim that: "In fact, there is no god." Quite a statement for an ancient thinker, and one that I suspect is more Pasolini than Euripides.
With that, Pasolini cuts from the lush setting of this idyllic existence to the barren white desert hills of a primitive society where the priestess and sorceress Medea observes (and, at times, participates in) the brutal religious rites and human sacrifices of this sun-worshipping culture to their elemental god. Her expression is hard, betraying no emotion, but Callas' mighty presence gives her a sense of power over this society, even if that position demands that she, too participate in punishing rituals. This is the barbaric culture that worships the Golden Fleece, which Jason has been sent to retrieve by his uncle the King (Massimo Girotti), and she betrays her people and her pagan faith to follow Jason back to his home in Greece, where he bears his children but is never completely accepted into his society. The once powerful sorceress has lost her power in this alien world but is still feared by the King. When Jason abandons her for marriage to the King's daughter and breaks his oath to look after her when she is banished by the King, her fury reignites her power and spurs her on to take terrible revenge. For Pasolini, it's less a human tragedy of promise and betrayal than a statement of cultures in collision, of power and sexual politics. Tellingly for a director struggling between Catholic upbringing and Marxist atheism, it is also the surge that recharges her waning powers and reconnects her with the gods she left behind to take her vengeance.
Continue reading on Turner Classic Movies
Available from Amazon:
Medea (DVD)

Medea (Blu-ray)