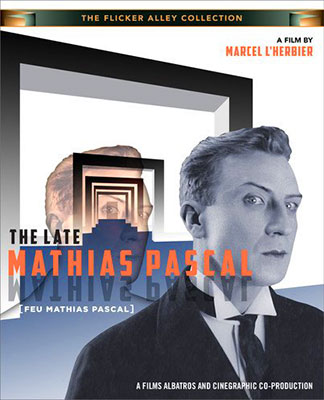 Even the most famous of silent movies are a specialized interest when it comes to home video. Apart from the comedies of Chaplin and Keaton or a few acknowledged landmarks of silent cinema (think Sunrise or Metropolis or Nosferatu), many movie fans view silent films as primitive or dull. Nothing could be farther from the truth. At its best, silent cinema is a pure kind of moviemaking that tells stories in images and metaphor. It's a different kind of storytelling, but it is no less complex or evocative than the best of sound cinema.
The Late Mathias Pascal, Marcel L'Herbier's fabulist epic from 1926 France, is a marvelous example of silent cinema at its most ambitious from one of the most inventive and most influential French directors of the era. Based on a novel by Luigi Pirandello, The Late Mathias Pascal (originally titled Feu Mathias Pascal) stars Ivan Mosjoukine, a Russian émigré who became a leading star in French silent cinema, as a dreamer whose life takes a fantastic turn. The film opens with Mathias as the spoiled son of a wealthy widow who loses the family fortune because he, the aspiring artist and would-be genius at work, is too self-involved to be bothered with the family affairs. He's hardly a classic hero – when asked by his best friend Jerome (Michel Simon), a shy and bumbling but good-hearted working class schlub, to approach the town beauty Romilde (Marcelle Pradot) on his behalf, Mathias ends up falling in love with her himself and ultimately marrying her – but he's also resilient, plucky, and driven to succeed after his sudden turn of fortune.
Mathias and Romilde move in to a dreary old apartment with Romilde's sour mother and Mathias takes a job in a horror of a municipal library, yet he approaches both with optimism and ingenuity. When he first enters the former church turned neglected book warehouse, a place that could have spring from the imagination of Kafka in a whimsical mood, he finds rats nibbling the haphazard stacks of books and responds by bringing in a pair of cats. He watches them clear the place with the joy of a kid. But while L'Herbier makes a point of creating a vivid portrait of the social culture of working class life in this small town, realism is the last thing on the director's mind. The plot takes wildly abrupt turns and shifts in tone–the storybook romance of this marriage is poisoned by his never-satisfied mother-in-law, his optimism is swamped by a double-shot of tragedy, and when his misery sends him on a trip to Rome, fate turns around and suddenly pours on the good fortune. The provincial dreamer who loses it all becomes an innocent in the high society of Rome where he wins it all back, but his new life comes with a wicked price.