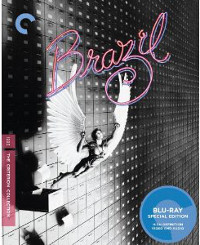 Terry Gilliam's Brazil (Criterion), a dark, dense science fiction fantasy, is like "1984" rewritten by Monty Python, an absurdist nightmare of Kafka-esque dimensions.
Jonathan Pryce is the dreamer trapped as a worker bee in the bureaucratic maze as deadly as it is indifferent, until he falls in love with a woman (Kim Greist) he thinks may belong to the terrorist underground. The road to true love involves lunches with his plastic surgery-addicted mother (Katherine Helmond), bureaucratic dueling with an air condition repairman (Bob Hoskins), and cozy relations with the friendly neighborhood interrogator (Michael Palin). Fittingly the film took its own circuitous route to release. Universal stalled the release and even reedited the film, until Gilliam screened the film himself for the Los Angeles film critics, who championed the film and lavished it with end of the year awards.
Universal released the 132 minute theatrical cut of the film, the same one that played theaters in the U.S., on Blu-ray last year in a bare-bones edition. But well over a decade ago, Criterion released Gilliam's definitive version of the film, culled from materials in numerous different release cuts, in a deluxe three-disc DVD set packed with supplements. That edition now debuts in a newly-mastered, Director Approved Blu-ray set.