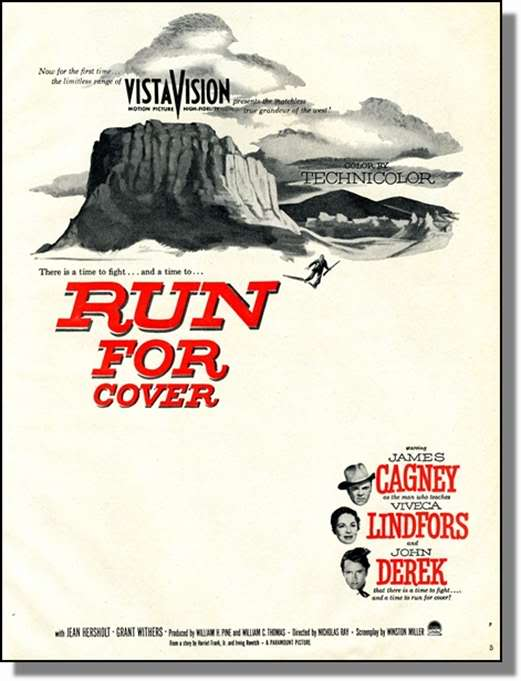 Nicholas Ray was one of the most interesting directors in Hollywood in the 1950s. He was fascinated by outcasts and orphans, father figures and struggling sons, broken people driven by anger and colliding with society, anxious teenagers and young adults looking for their identity and their place in a hostile world. By any measure, Run For Cover is second-tier Ray, a western with interesting colors in a familiar frame. Made between his cult western Johnny Guitar and his legendary Rebel Without a Cause, it in many ways anticipates the latter in the western mode of the former, though with a more conventional approach and an emphasis on the father figure over the symbolic son.
James Cagney didn't make many westerns — he established himself as an urban guy, street smart and pugnacious, in the thirties, and this is his first western since The Oklahoma Kid in 1939 — but he is excellent here as Matt Dow. Tough as a coil of barbed wire, he's a loner and a survivor riding through the Colorado frontier and targeted by a lynch mob for a crime he didn't commit. John Derek co-starred in Ray's 1949 social drama Knock on Any Door and plays a variation of the same role as Davey Bishop, a young man orphaned as a child and raised by the community, passed around among the families of his small town of Madison. Davey is shot and crippled by a reckless, cowardly sheriff who ambushes the "train robbers" without giving them a chance to surrender, and Matt (after angrily proving their innocence to the townsfolk) all but adopts Davey, feeling responsible for his injury because he made Davey ride in front of him along the trail.
There an angry young man angle to the story, a juvenile delinquent movie in the old west, with Derek's Davey as the cocky kid who becomes bitter and angry at the world for its mistreatment of him. But he's a supporting character in the primary story of Matt, a man who has suffered the same mistreatments (he served time for a crime he didn't commit, a sentence that cost him his family) and emerged wary and self-sufficient, but steadfastly moral. Impressed with his strength of character and cool under pressure, the townsfolk ask Matt to be their new sheriff and he takes the job on the condition that there will be no more lynch mobs, and that Davey serve as his deputy. Cagney's Matt offers a form of tough love with Davey, but it is love nonetheless, a commitment to the boy that no one else has provided. The film turns on their relationship and their choices, as Matt romances Swedish farmer's daughter Helga (Viveca Lindfors) and joins the community and Davey slides into failure, self-pity, and moral compromise.