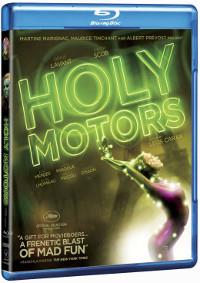 Holy Motors (Vivendi) is a film that almost defies description.
From its enigmatic opening scenes, which sends the viewers into a mysterious voyage a la Alice through the looking glass that ends up in a movie theater, Holy Motors is a celebration of the magic, imagination, and primal power of the movies.
Director Leos Carax celebrates his love (as well as his criticisms) of cinema in the modern world through an imagined culture of interactive theater that recreates moviemaking as private performance art pieces executed by freelance performers / directors for audiences unknown. Denis Lavant, the ugly/beautiful primal force of Les amants du Pont-Neuf and Beau Travail, is the committed actor, delivered from set to set in a long white limousine dressing room, the arts equivalent to the traveling office of Cronenberg's Cosmopolis (I think there is a great double feature to be found here). He transforms from businessman to gnarled old beggar woman to street thug killer to depraved leprechaun troll and beyond, taking on a complete new persona with each costume change.
Behind these unrestrained journeys into all manner of mini-movies is an anxiety over the future of filmmaking and a fear of exhaustion (physical and creative) by the filmmakers, but the determination to keep creating these dreams and the sheer physical commitment to each performance is its own answer. Yet beyond that is the exhilaration of Carax's flights of fantasy, from the visceral beauty of a motion-capture martial arts dance and gymnastic ballet of sexual congress to passionately overwrought melodramas that could have come out of the 1940s (Hollywood or France, take your pick) to hard-edged crime thrillers with wicked twists that call on us to provide our own backstory. There's comedy, music, drama, thrills, tributes to the movies, legendary French actress Edith Scob, American beauty Eva Mendes, and Australian pop star Kylie Minogue, but mostly there is wonder and invention and the sheer thrill of cinematic creation. In the words of Lavant's exhausted creator, it's all about the beauty of the act, and these acts are nothing if not beautiful.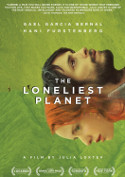 Blu-ray and DVD, in French with English subtitles (and brief sequences in English language). The Blu-ray also features the 47-minute documentary "Drive-In" with interviews and behind-the-scenes footage (in French with English subtitles) and an interview with Kylie Minogue (in English).  Also available On Demand, on digital download, and VOD.
The Loneliest Planet (MPI), an American independent production shot overseas, stars Hani Furstenberg and Gael Garcia Bernal as a couple backpacking through the back country of Georgia in Eastern Europe, always making an effort to take the road less traveled. This road in this meandering, low-key film leads to an unexpected confrontation, and a startling reaction, that changes things irrevocably between them. Don't fret if you don't get any subtitles. We are as much in the dark as to what the locals are saying between themselves as our traveling couple. DVD, with a featurette and stills.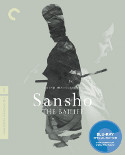 Sansho the Bailiff (Criterion), Kenji Mizoguchi's masterful 1954 film, follows the ordeals of the wife and children of a provincial governor after they are sold into slavery by a vindictive feudal lord. Mizoguchi is the poet laureate of Japanese cinema, gracefully exploring the battered but resilient souls in the cruel worlds of Japan's feudal past and present. His worlds are hard and unforgiving, the societies brutal, and within them he creates characters of tremendous grace. This is one of his greatest films, and it won the Silver Lion at the Venice Film Festival, his third win in three years.
Sansho is not the hero of Sansho the Bailiff, he's a pitiless slave owner who metes out swift, unequivocal punishment to all slaves captured in escape attempts. The brother, Zushio (Yoshiaki Hanayagi) hardens over time, becoming tough and unfeeling as he obeys the hard commands of Sansho, but sister Anju (Kyôko Kagawa) remains kind and generous and sacrifices her freedom to save Zushio, which rekindles his knotty heart and soul and resolve. Kinuyo Tanaka, who plays the mother separated from her children and degraded by a life of prostitution. Mizoguchi was famed for his portraits of women. It's not just about finding the saints among the sinners, but the rich lives of these concubines and wives and actresses and prostitutes, who are supposed to find their identity in the men of their lives and wind up forging their own rich interior lives, even as they wind up discarded by their own society.
Read More "Videodrone: 'Holy Motors,' 'The Loneliest Planet,' Mizoguchi, and Nazi zombies"