Antonio Pietrangeli is the greatest Italian filmmaker of the sixties you've never heard of and his bittersweet I Knew Her Well (1965), starring Stefania Sandrelli as a country girl in Rome trying to break into show business, is his masterpiece. Young and beautiful, Adriana (Sandrelli) is able to get by on her looks, taking temporary jobs between modeling gigs and screen tests, and she's savvy enough to understand that sex is a commodity to be traded for favors from press agents, managers, and minor celebrities. But she's far from cynical, at least at first, as she plays the game and enjoys the nightlife, and she's even a bit naïve, constantly hooking up with charming, good-looking cads who have a habit of abandoning her. It's episodic by nature, a series of snapshots from her life, and directed with the light touch of a frothy Italian comedy that belies the mercenary society and cruel behavior of the rich and successful.
Pietrangeli co-wrote the film with Ettore Scola (among others) and they offer a satirical portrait of the shallow celebrity culture and Roman nightlife of La Dolce Vita with both a more vicious edge—the callous treatment of a washed up actor (played by Ugo Tognazzi) is truly painful—and a breezy, easy style. The simple irony of the title isn't hard to fathom. None of the men ever bothers to get to know Adriana at all, dismissing her as a silly beauty good for a one night stand, and Sandrelli plays her as a seemingly frivolous, capricious young woman with nothing on her mind, kind of Italian Holly Golightly without the cynical calculation. Yet she's more perceptive than anyone realizes as she navigates the mercenary world with energetic optimism before she grows disillusioned in the final act of the film. Sandrelli has a kind of blank, oblivious beauty that makes her great casting for simple, silly, not-too-bright characters (see The Conformist) in her youth, and Pietrangeli uses that surface frivolity beautifully. She's simply heartbreaking.
I Knew Her Well plays for four days at NWFF in a newly restored edition. Showtimes and tickets here.
The new 4K restoration of Ran (1985), Akira Kurosawa's epic re-imagining of Shakespeare's King Lear in sixteenth-century Japan, runs for a week at SIFF Cinema Uptown. Tatsuya Nakadai plays the aging warlord who divides his empire among his three sons and slips into madness as he is neglected, betrayed, and stripped of his dignity. Kurosawa is not merely true to Shakespeare's story, he brings scenes alive with a cultural twist and a visual mastery, from the pageantry of warriors filling vast fields of green with red and white flags and uniforms to the howling storm that strikes during the warlord's spiral into madness. The spectacle is brought home with delicately observed performances and beautifully sculpted relationships, an intimacy that gives the epic its soul. I haven't seen the restoration but I imagine those colors are more vivid than ever. Chris Marker's documentary A.K.: The Making of Akira Kurosawa's Ran (1985), a profile of Kurosawa on the set of the film, also plays at SIFF Film Center.
Richard T. Jameson's 1985 review is on Parallax View here.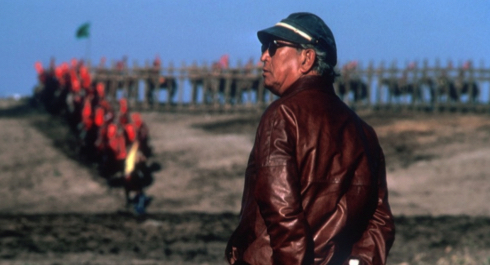 Jacques Becker's Antoine and Antoinette (1947), the first film in SAM's "Cinema de Paris" series, plays on Thursday, March 31 at Plestcheeff Auditorium. Individual tickets are available on the day of show on a first come, first served basis. Details here.
The Wim Wenders retrospective "Wim Wenders: Portraits Along the Road" this week presents Buena Vista Social Club (1999) at SIFF Film Center and Pina 3D (2011) at SIFF Uptown (both Wednesday, March 30) and Until the End of the World: Director's Cut (1991) at NWFF (Thursday, March 31).
If you missed Apichatpong Weerasethakul's Cemetery of Splendor during its weeklong run at NWFF, it will be back for one night at SIFF Film Center on Monday, March 28.
The Cinerama is one of the only ten theaters in the country to show Batman v Superman: Dawn of Justice in a 70mm film print. It will run for a week on film, and then revert to DCP on Friday, April 1, so celluloid junkies should make a plan for that first week. And remember: the Cinerama sells reserved seating so you may want to purchase in advance. The Cinerama webpage is here.
Visit the film review pages at The Seattle Times, Seattle Weekly, and The Stranger for more releases.
View complete screening schedules through IMDb, MSN, Yahoo, or Fandango, pick the interface of your choice.