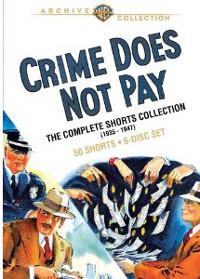 "Once again, as the MGM crime reporter, it is my privilege to present to you another episode in our Crime Does Not Pay series."
MGM's Crime Does Not Pay (Warner Archive) series numbered 50 dramatic short films between from 1935 to 1947, all running about 20 minutes, most serving as a training ground for up and coming directors, and all of them proving that, just as the title promises, crime does not pay. The debut episode, "Buried Loot" (1935), makes the case in spades. Robert Taylor takes an uncredited lead as an embezzler with a long-term scheme and a morbid end, thanks to a twitchy case of obsession and an ill-advised use of acid on his own face.
Not all shorts featured performers of Taylor's stature but minor players from the MGM studio were shuffled through these films, along with the occasional A-list supporting player or future lead. Like Marc Lawrence and Laraine Day in the shoplifting drama "Think First" (1939), where nice girls lured into a ring of thieves suffer dearly for their mistakes, or Dwight Frye (Renfield in "Dracula") as an arsonist killed by his own firebug actions in "Think It Over" (1938), the latter an early film by future auteur Jacques Tourneur. He's one of the most notable filmmakers who got his start in this series, along with future Oscar winner Fred Zinneman (whose "While America Sleeps" is a terrific industrial espionage thriller and "Help Wanted" stars Tom Neal as a working class Joe who helps the government take on the crooks in the employment rackets, both from 1939) and Joseph Losey ("A Gun in His Hand," 1945),
Other directors include George B. Seitz (who directed most of the Andy Hardy films), Felix Feist (of "The Devil Thumbs a Ride" fame), Harold S. Bucquet (he went on to direct the "Dr. Kindare" series), Joseph H. Newman, and Roy Rowland, and future film noir screenwriter John C. Higgins apprenticed on half a dozen scripts.
This series is a mix of procedural, with detectives doing proto-CSI work to solve the crimes, and morality tale with terrible ends for the criminals. And while they are clearly low budget, they feature better production values than a lot of B movies and generally move at a driving pace, at least once we get past the stiff, documentary-eque opening, most featuring real-life officials but a few with real actors in the role of authority (such as Leon Ames or Al Bridge). There are no lost masterpieces in this collection, but many are lively and engaging and they often carry an unexpected punch to the action or the dramatic twist, which is better than most of the feature-length B-movies of the era.