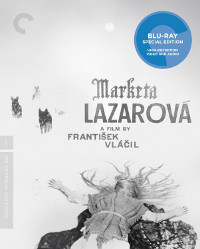 It isn't often that Criterion, a label with a sterling reputation for presenting the finest editions of classic and contemporary masterpieces, landmarks, and curiosities of world cinema (with a few dubious ringers tossed in), lavishes the special edition treatment on a film largely unknown to even the most film literate American audiences. Marketa Lazarová, a 1967 epic from Czechoslovakia, is considered one of its country's cultural masterpieces. Based on one of the revered masterpieces of Czech literature (considered unfilmmable by many), the film was voted the greatest film Czech film ever made in a 1998 poll of Czechoslovakian film critics and professionals. Yet the film has been rarely revived in the U.S. and has never before been on home video. For many of us, this will be our introduction not just to the film but to its director, Frantisek Vlácil, the self-taught filmmaker who began directing at the same time as Milos Forman and Jiri Menzel but never achieved their recognition outside of Czechoslovakia. The imprimatur of Criterion, respected for its curatorial taste as well as its dedication to superior presentations, is an invitation to take a chance on this unique film.
Set in 13th century Czechoslovakia, in a medieval culture of warring feudal lords, Marketa Lazarová is 165 minutes of primal black and white imagery, poetic filmmaking, and ephemeral storytelling that looks hewn out of the stone and wood and the very earth of the ground beneath. It's an ancient tale, explains the narrator, who also warns us that the parts come almost at random. And while it the film indeed unfolds in chapters of overlapping vignettes, it plays like stanzas of an epic poem visualized, with sketches of characters and impressions of moments and images that sculpt an untamed world into magnificent visions both primal and poetic. It's photographed in CinemaScope dimensions and Vlácil uses the frame to emphasize the vastness of this land of mountains and forests.
Kozlík (Josef Kemr), the brutish pagan patriarch of a predatory bandit clan that preys on travelers, and Lazar (Michal Kozuch), the king's man and a Christian, go to war when the Kozlík's boys kidnap the son of a visiting German count and Lazar is charged with recovering the boy and punishing the captors. It begins as a brutal campaign of ambushes and tortures and escalates to open warfare, all played out against a vast sky of perpetual gray and a landscape wild and untamed but for the protected human habitats (where the life of the land is trampled into muddy bogs between the lonely stone buildings).