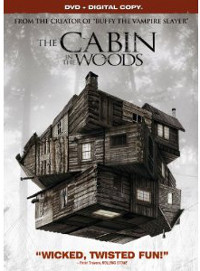 The Cabin in the Woods (Lionsgate) – There's more knowing horror comedy and meta-horror commentary than actual tension and thrills in the self-aware, awfully clever love letter to the horror movie fandom from Drew Goddard and Joss Whedon. That's fair, because scares or not, I had more fun watching Cabin than almost any other film this year.
Whedon, producer and co-writer, first established his fan credentials with Buffy the Vampire Slayer, a self-aware, pop-culture strewn horror show in weekly installments, but he and co-writer Goddard, a Buffy writer making his directorial debut, take a different approach here. No spoilers, just in case you've managed to steer clear of them so far, but the first scene isn't about the five kids headed off for a weekend in the haunted woods. It begins with the quip-laden banter of lab-coat technicians (Richard Jenkins and Bradley Whitford) as they head to work in their quasi corporate bunker culture. That work has something to do with the kids' weekend plans, and the rest of the film shows us just what and why that is.
As far as the fresh meat college kids go, keep an eye out for the handsome young guy playing Curt, the smarter-than-he-lets-on football player. Back in 2009, when the film was made (release was delayed by the bankruptcy of MGM, which produced the film), Chris Hemsworth was an up and coming actor with a lot of promise. Now he's Thor. And he's still upstaged by Fran Kranz as the twitch stoner Marty, who makes the case that just because you're paranoid doesn't mean they aren't out to get you.
Unabashed horror movie fans Whedon and Goddard let their monster mash impulses go wild, riffing on every "kids in the woods tormented by supernatural killers" film ever made (with special affection for the Evil Dead films) before launching into a pulp rumination on our need for scary stories as a kind of ritual.
Which is not to say it's pretentious or, you know, particularly intellectual. It's just clever, a fun riff on the clichés, conventions, and expectations of American horror movies. That it tries to make sense of all the bad decisions and unbelievable coincidences that drive the stories, and mostly succeeds, is just part of the fun.