Claude Chabrol, the most doggedly prolific of the New Wave directors all the the through the to the final months of his life, died less than a year ago. To this day it's as if we take him for granted.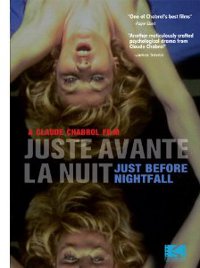 Where we have deluxe, lovingly-restored and mastered editions of the films Francois Truffaut, Jean-Luc Godard, Eric Rohmer, Alain Resnais, Agnes Varda and Louis Malle from Criterion, few of Chabrol's classics have received even nominally respectable treatment on DVD (mostly from Kino and the defunct Home Vision label), many of his greatest films have been relegated to inferior DVD editions (See my survey of Chabrol on DVD, circa 2009, in this feature on Parallax View) and not a single title has been given the Criterion treatment. That is finally going to change, I'm happy to report, but that comes later. First comes a brief report on the stateside DVD debuts of two seventies Chabrol films from Pathfinder.
Pathfinder's release of Juste Avant la Nuit (aka Just Before Nightfall, 1971), misspelled on the cover as "Avante," and The Twist (aka Folies Bourgeoises, 1976) are among the worst-looking DVDs I've seen in the past few years. It looks like someone burned their old VHS tapes onto a DVD-R and tossed it out onto the marketplace. Juste Avant la Nuit, a thriller of infidelity and sexual games starring Stephane Audran and Michel Bouquet, looks like a TV print in the old Academy ratio (1.37:1), blurry and hazy and as low-fidelity as I've seen on DVD in recent years. The Twist, an English-language satire with Bruce Dern and Ann-Margret joining French actors Audran and Jean-Pierre Cassel, is even worse, a non-anamorphic widescreen presentation of one of Chabrol's weakest movies. Zooming the film to fill a widescreen TV only magnifies the limitations in the already weak image quality and the optional French-language soundtrack offers no English subtitles.
Even Chabrol completists will want to think twice about adding these disc to their collection, but apart from importing foreign DVDs with only marginally better presentations, these are the only versions available at this time.