Author, critic, film authority and festival programmer Eddie Muller was branded "The Czar of Noir" by James Ellroy for his knowledge of and passion for the subject. Since publishing Dark City: The Lost World of Film Noir and programming a film noir festival in Los Angeles in 1998, Muller has become not simply the most prominent film noir authority in the U.S., he's become an ambassador for film noir as the organizer, programmer and Master of Ceremonies of the Noir City Film Festival in San Francisco (and in the smaller traveling Noir City offshoot) and as the president of the Film Noir Foundation, the non-profit organization that puts on Noir City and uses the proceeds to fund film restoration. The Eighth Annual Noir City (with 24 films in 12 programs over 10 days) unspooled at the Castro in San Francisco in January 2010 and the Seattle incarnation (14 films over 7 days) opened on Friday, February 19. (The Hollywood incarnation at the historic Egyptian Theater, where Muller programmed his first film noir festival, is scheduled for April.) I spoke with Muller by phone between the San Francisco and Seattle series and we talked movies, noir icons, film preservation and the thrill of seeing film noir on the big screen. (My profile and preview of the series is at The Stranger here.)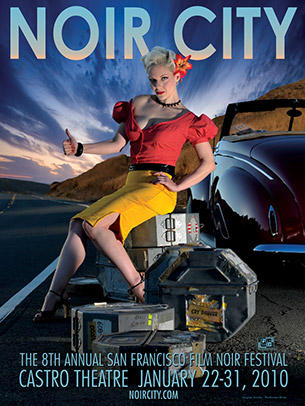 This is the eighth year of Noir City, and the fourth road show edition of Noir City in Seattle. How have you been able to develop it into such a big annual event?
First off, it's the eighth Noir City Festival we've done in San Francisco but I've actually been doing them, oh my God, this will be my eleventh year in L.A. at the American Cinemateque, which is where I actually started doing it. But those early ones at the Egyptian weren't Noir City events, that's a San Francisco thing, there's where it was started. And it really was like the perfect storm, in a way. It's a combination of showing the right kind of films in the perfect venue in San Francisco at the exact right time of year. Beyond that, I guess that somehow it works that people like to have a personality or a face attached to it that they recognize, so that has been helpful, it turns out, that I'm so associated with this festival and that I'm a San Franciscan, that certainly has helped in San Francisco. So that's really it. There's nothing else competing in San Francisco at that time of year, is winter, it makes sense for film noir, the Castro is the perfect place to show these films. People have turned it into a real happening and that's really—besides the restoration work and all kind of stuff—it is fascinating to me that we have show, somehow, that you can draw a thousand people on a weeknight to watch sixty-year-old black-and-white films in a theater. It is pretty remarkable.
Read More "Interview: Eddie Muller, the Ambassador of Film Noir"