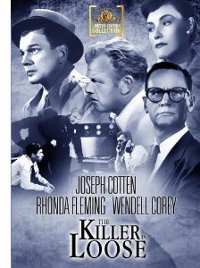 Despite the efforts of such fans as Clint Eastwood, who produced two documentaries on the director, and Martin Scorsese, Budd Boetticher is still a name known mainly to film historians and fans of classic westerns. Boetticher made some of the greatest, purest, most austere westerns of all time: Seven Men From Now (available from Paramount), The Tall T, Comanche Station, and Ride Lonesome (the latter three in a box set from Sony and Scorsese's The Film Foundation). But like any successful director of the era, Boetticher made a lot more than just westerns. Yes, he did direct three bullfighting dramas (talk about a specialized niche), but he made war pictures, adventures, youth dramas, mysteries and crime pictures. Two of his best crime films arrived almost simultaneously via MOD earlier this.
Between his big studio breakthrough at Universal (where he made nine pictures in two years, most of them westerns) and his first of seven pictures with Randolph Scott, Boetticher directed The Killer Is Loose (MGM Limited), a 1956 crime drama starring Joseph Cotten as a police detective whose wife (Rhonda Fleming) is targeted by an escaped criminal looking for payback. Wendell Corey is superb as the soft-spoken bank teller turned robber who becomes twisted by revenge and pretty much slips over the edge of sanity. Boetticher's biggest strength is efficiency and restraint, creating a camaraderie in the police squad room and a sense history between Cotten and his partner (Michael Pate), and he's at his best building tension through dialogue and stillness that builds to a sudden burst of action. When Corey takes his former sergeant (John Larch) hostage, he never looses that quiet, deliberate composure, calmly reasoning his way to murder and executing his sacrifice without hesitation. Boetticher punctuates the gunshot with one of the great images of explosive violence: a shattered milk bottle. The sudden explosion shatters the tension of the deliberately measured scene and the burst of white milk against Larch's black suit gives the sound a striking visual dimension.
The Rise and Fall of Legs Diamond (Warner Archive), Boetticher's last film before he headed to Mexico for an eight-year odyssey, came out in the mini-boom of low-budget prohibition-era gangster films with second-tier stars of the mid-fifties to early-sixties, like Pretty Boy Floyd and Machine Gun Kelly and Al Capone with Rod Steiger. Ray Danton stars in the 1960 production as the real life dancer turned urban thug and mob killer Jack "Legs" Diamond, who made his name terrorizing other criminals in New York City, essentially running a protection racket aimed at the disorganized crime in a city yet to get mobbed up. What Boetticher brings is a smoothness, charm and brazen arrogance to anti-hero, building a film around a brazen villain with nary a hero in sight. As presented in the film, he's not so much fearless as a rabid dog of an opportunist, driven by pure cussedness and arrogance and protected only by the belief that "The bullet hasn't been made that can kill me," a mantra he comes to believe after surviving so many shoot-outs. You know that's going to last in a gangster film with the phrase "rise and fall" in the title. Karen Steele is somewhat blank as Alice, his dancing partner turned oblivious lover who spends the film with a wide-eyed expression of gullibility and surprise and, once she tips to the truth, drowns her misery and guilt in bootleg liquor. Elaine Stewart is far more convincing and interesting in a smaller role as a sultry but soiled showgirl discarded by Legs. And then there's Danton in perhaps the best role of his career. He oozes cheapness and insincerity even at his most charming but becomes pure rage and drive when he pulls out his guns and starts blasting his competitors, wading in with no hesitation like he's got nothing to lose. That's part of the obligatory irony of his fall: it's only when he starts losing it that he loses his cool and his fearlessness. Released in a fine-looking "Remastered Edition" in an anamorphic master (the case claims it is 1.85:1 but it's actually 1.77:1, a minor difference but one worth noting for purists).
The Halliday Brand (MGM Limited) is neither a crime picture nor a Budd Boetticher film but I shoehorn the inclusion of this 1957 western because of star Joseph Cotten, who plays the eldest son of frontier lawman Ward Bond, and the late fifties low-budget sensibility. Both Cotten and Bond are too old for their roles, at least for the flashback story that shows how Bond's racist streak and brutality turn his son into an outlaw guerilla. It begins with the old man on his death bed trying to make peace with his past, but it turns out prejudice and retribution are thicker than blood. It was one of the final features by B-movie veteran Joseph H. Lewis, who made a couple of film noir classics (Gun Crazy and The Big Combo) but never made the leap to big studio assignments. Always one to find creative solutions to budgetary challenges, he effectively creates a lynch mob scene out of off-screen crowd sounds, shadows across set walls, feet clumping up a staircase, and even more evocatively tells the story of the aftermath with a simple, suggestive image loaded with emotional pain. But his heart doesn't seem to be in the rest of the film. He dutifully plays out the hand this production deals him and cashes out with a draw.
Available by order only from the MGM Limited Collection, from Amazon, Screen Archives Entertainment, Classic Movies Now and other web retailers:
The Killer Is Loose (MGM Limited)
The Halliday Brand (MGM Limited)
Available exclusive from the Warner Archive:
The Rise and Fall of Legs Diamond (Warner Archive)