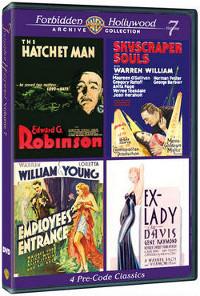 Forbidden Hollywood: Volume 6 (Warner Archive) and Forbidden Hollywood: Volume 7 (Warner Archive) continue to showcase the best, sauciest, and most surprising films made before the Production Code forced Hollywood to clean up the screen. At their best, or at least their most memorable, they flaunted the sexual play of unmarried couples (and worse, the affairs of married characters with other partners), the flagrant boozing at the height of prohibition, and the thrill of bad behavior, which it presented without the requisite lessons learned. And in this case, they saved the best for last. Or at least for seventh.
Forbidden Hollywood: Volume 7 (Warner Archive) is the collection I've been waiting for. It features two of my favorite pre-code discoveries, Skyscraper Souls (1932) and Employees' Entrance (1933), both starring Warren William in his silver fox phase: the big business tycoon who's a shark at work and a wolf with the women, putting the moves on the youngest and prettiest girls around. This is the era of kept women and philandering men and these films revel in his alpha male aggressiveness in the boardroom and on the prowl.
Skyscraper Souls, directed by Edgar Selwyn, stars William as a New York banker and corporate gambler whose financial empire is centered in his beloved 100-story skyscraper (a phallic tower of his power just two stories shy of the Empire State Building), where he not only works but lives in a penthouse apartment. Maureen O'Sullivan is the fresh young beauty he picks out of the secretarial pool to replace his longtime mistress (Verree Teasdale), who is also his personal assistant. He juggles finances the same way he does women, and isn't above lying in either arena, which is why the bank examiners are looking into a dubious loan he made to himself to finance the building.
The pre-code era was famed for its films that pushed the envelope of sex with racy suggestiveness and Skyscraper Souls just oozes with lust and overflows with affairs, but the mercenary business dealings are just as forbidden here. William is a depression-era Gordon Gekko obsessed with building his own empire at any cost. O'Sullivan came to the film fresh from "Tarzan the Ape Man" and her wardrobe is almost as skimpy in a couple of scenes here. But she's no simple innocent sullied, despite William's predatory pressure. Everyone is compromised here.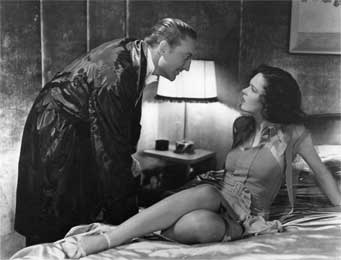 Employees' Entrance (1933) is a perfect companion piece. This one, directed by Roy Del Roy, is set in a metropolitan department store with William playing the manager in the same corporate captain manner — "My code is smash… or be smashed!" he tells the board of directors, and he follows through with a ruthless business code that allows no sentiment — and Loretta Young as the comely model that he dallies with but refuses to commit to. The store is his true mistress and his life. Wallace Ford is the ambitious young clerk with bright ideas who is also wooing Young while William grooms him in his own image. The film packs a lot of conflict and bad behavior (not to mention a stock market crash and a suicide) in 75 minutes. William is both hero and villain, ruining businesses and lives as he cancels contracts and fires employees when they fail to live up to his standards, and he is suave yet ferocious in the part.