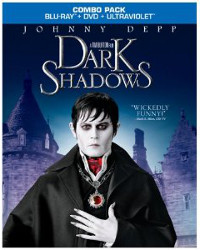 Dark Shadows (Warner) is by definition a big screen remake / revival of the late 1960s gothic soap opera, an actual daytime serial that took a turn into a world of vampires, witches, werewolves, curses, and other romantic old-school horror movie staples.
It is by nature, however, a trip to Tim Burton-land, where families learn to embrace the eccentric and the weird as part of their definition and gain strength from their differences. Though ostensibly built on characters and plots from the old TV series, it has very little to do with the show and everything to do with Burton's affection for the ghoulish and the goofy, especially when they come wrapped together.
Dark Shadows was largely dismissed is a frivolous exercise in style and Burton excess when it was released but at heart it's another Burton family of eccentrics that finds itself when it embraces its difference, thanks to the arrival of Barnabas Collins (Johnny Depp, once again committed to the Burton vision). Cursed to be a vampire but inspired to raise up the Collins family name, and in the process the fractured Collins family itself, it flirts with tragedy but is more committed to the comedy of life… or resurrection, as it were.
There's a sense of play in every Burton film, but when he puts it in the service of real family values – parental commitment, paternal protectiveness, a nurturing of the individualism that comes with rebellion – he can deliver something quite special. Think Edward Scissorhands or Beetlejuice or Ed Wood.