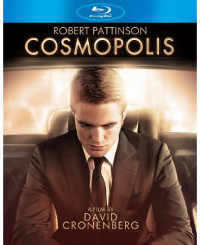 Cosmopolis (eOne) is a microcosm of a disconnected existence, life lived in a bubble in financial dealings and digital communications and brief face-to-face conversations and sexual intermissions in a space shuttle of a limousine creeping through the gridlock of an anonymous New York City.
David Cronenberg adapts Don Delillo's massive novel, distilling it down to a two-hour odyssey through a long day of digressive debates and ruminations as the grand gamble by financial kingpin Eric Packer (Robert Pattinson, perfectly disaffected in a mix of boredom and anxiety) turns against him, pulling down his empire with it. But inside the bubble, the ruin is no more real than the words swapped in dialogues the devolve into parallel monologues and indecipherable symbols flashing across the screens of his moving office.
Cronenberg is in fact the perfect director to bring this book to the screen. He turns this day in the urban jungle into an unreal window on an alienated world, where civilization pitches on the verge of ruin and Packer, dissatisfied with its pace, nudges it along, taking the motto "destruction is a creative act" to heart.