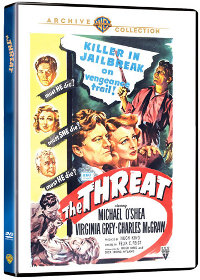 The Threat (Warner Archive), a 1949 programmer from Felix E. Feist, opens with a rat-a-tat energy, quite literally: a prison break, a whining siren, and then the almost unbroken blasts of machine gun fire standing in for a musical underscore during the opening credits. All accomplished with a couple a few simple sets against the black of night. That's making the most of limited resources. And that's part of the pleasure of this kind of cinematic archeology.
Felix Feist is no auteur but he made some minor classics of the noir genre, notably The Devil Thumbs a Ride and Tomorrow is Another Day. Here he has a good story (if not always a great script) and a truly menacing heavy in Charles McGraw as death-row killer Red Kluger, his tenor gravel and heavy frame carrying the threat of the title in every step and speech. Red isn't simply engineering a getaway, he's plotting his revenge against everyone who put him in prison and getting rid of anyone standing in his way.
We're not talking lost masterpiece here; Feist is saddled with flat dialogue ("Now you know how a good detective works. When he finds something, he calls!"), generic sets and a cast of frankly non-charismatic leads (Michael O'Shea adequate as the cop hero, Robert Shayne a real stiff as his partner, and Frank Conroy almost a non-entity as the D.A..). But Virginia Grey is superb as a trampled flower of a showgirl and Feist allocates his limited budget cleverly, saving his resources for a few set pieces, notably the finale in a hunting cabin where the wait for a getaway plane drags on and the tension turns to violence with a dynamic crane shot and a brutal bare-knuckle brawl. This is the kind of punch that low-budget crime films could and, at their best, did deliver.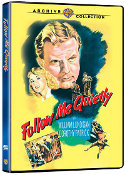 Follow Me Quietly (Warner Archive), a 59-minute thriller from Richard Fleischer (soon to be a major studio director but in 1949 paying his dues in specialty shorts and B-movies), is just as good, and just as limited. This was clearly timed to play the bottom of a double bill, but it has better production values than most B-movies and Fleischer devotes much greater care to the direction. He's announcing his ambitions here.
William Lundigan is the lead detective on the trail of a self-styled executioner called "The Judge" and Jeff Corey is his loyal, supportive partner, supplying the wry remarks as Lundigan applies modern techniques to build a physical and psychological profile from a smattering of clues: an early profiler in a shadowy film noir world. Fleischer does a tremendous job of whipping up drama from a generally static script, though even he can't generate much heat from the love-hate tension between Lundigan and spunky, persistent reporter Dorothy Patrick. But while Fleischer garnered well-deserved kudos for a couple of sharp cinematic stings involving the dummy they mock up from the clues, his more impressive achievement is the eerie mood he creates from a generic backlot city street set and the chase finale he stages in an industrial plant, full of pipes and tanks and catwalks and ladders, a labyrinth that Fleischer employs superbly before the film's final jab. (You should just ignore the romantic comedy of the framing coda, just one of those conventions of B-crime movies designed to left audiences back out of the darkness before send them out of the theater.)
Both of these films are given solid presentations: no frills, as is the MOD way, but solid, sharp masters from clean prints. They are fine looking discs.
Read More "MOD Movies Spotlight: B-Noir and Forgotten Crime"