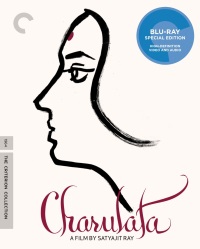 Satyajit Ray is one of those masters of world cinema whose films don't seem to get seen anymore. And this after Merchant-Ivory sponsored restorations and revivals of nine of Ray's greatest films in the late 1990s, a package of films that included Pather Panchali and the Apu trilogy, The Music Room, and Devi. Those films made it to VHS, but very few of his films are available on disc in the U.S. In fact, the only Ray films currently available on disc stateside are Criterion's release of The Music Room in 2011 (reviewed on Videodrone here) and Kino's The Chess Player on DVD in 2006.
Criterion is taking on the challenge of preserving and presenting the work of Satyajit Ray, one of the great humanists of 20th century cinema, on DVD and Blu-ray. They recently licensed the home video rights to 18 of Ray's features and the first two releases of this new project are now available: Charulata (Criterion) and The Big City (Criterion).
His 1964 feature Charulata, a historical piece about the forces of modernity in 19th century India, is one of my favorites and that film that Ray regarded as his masterpiece. The story focuses on young Charu (Madhabi Mukherjee), the gifted and sensitive wife of an idealistic newspaper editor, Bhupati (Shaileen Mukherjee) who gives lip service to women's rights yet neglects Charu (both emotionally and artistically) in his single-minded focus on his failing political paper. It encourages her playful flirtations with her husband's witty cousin Amal (Soumitra Chatterjee), a charming young man fresh from college, full of himself and ready to conquer the world as a writer.
Charu is a virtual prisoner of her social world, watching the life outside of the walls of her lavish prison longingly through opera glasses, like a performance she's not allowed to become a part of. With her husband  virtually absent, Amal becomes her everything: someone with whom she can exchange ideas, talk, flirt, feed, give presents, and finally fall in love.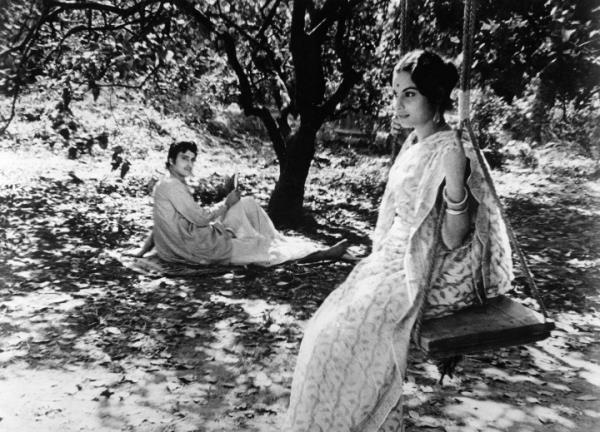 Set in 1879, the tension between Western ideas and Eastern tradition is strong, grounded in everything from the dialogue to the déco. The poetic naturalism that made the Apu Trilogy so successful is more finely honed here, the frame carefully designed to observe the social and political boundaries through the personal experiences and interlaced relationships, mapped through the knowing exchange of glances and gestures. And Ray's sensitivity is not limited to Charu, who feels betrayed by both men. As we see through Bhupati, even an intellectual is not beyond learning a little something about himself and the woman he professes to love.