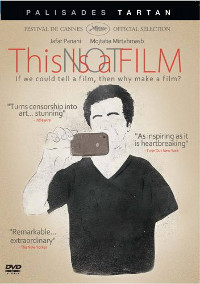 This is Not a Film (Palisades Tartan) is one of the bravest films of recent memory. While Iranian filmmaker Jafar Panahi was under house arrest awaiting appeal — he had been prosecuted for "assembly and colluding with the intention to commit crimes against the country's national security and propaganda against the Islamic Republic" and sentenced to six years in prison and forbidden from making films for 20 years — he used a friend's video camera and his own camera phone to make this production.
This is not a conventional film by any means. It's something between a diary of his house arrest, a video sketchbook for a film he's unable to make, and a cinematic essay on his position as an artist denied the right to make art and a citizen suppressed by a government who doesn't like what he says about his country. It's also a lively engagement with the creative impulse where, like most every film in Panahi's career, the border between fiction and non-fiction is indistinct.
There's a tremendous power under the simple-looking surface. Panahi is on camera for the entire film, which was shot by friend and collaborator Mojtaba Mirtahmasb, talking with friends on the phone about his legal situation, addressing the audience to discuss the film he'd like to make but can't, looking back on his previous films (which he pops into a DVD player) to discuss the nature of filmmaking. But as he sketches out ideas for a film he's unable to make, the frustration breaks through: telling a film is not making a film. And he clearly is not making a film because, of course, he's forbidden to. Therefore this is not a film.
This is Not a Film is a true act of courage. Panahi made it clandestinely and had smuggled it out of the country in a thumb drive hidden in a cake (call it a cinematic jail break) to show at the Cannes Film Festival, essentially trading any hope of leniency in his appeal to get his statement to the world. It's not about his suffering, mind you, for he lives well in his apartment. It's about censorship and intimidation and making your voice heard in spite of it. It is political art in the very best sense, a creative piece of non-filmmaking that defies expectations of documentary, a personal rumination of the necessity of art and the responsibility of an artist in the face of censorship, and a creative act from an artist forbidden to create.
It certainly isn't a commercial film, even by arthouse standards, and it played very few engagements outside the film festival circuit. This DVD release may be the first opportunity for many folks to see this humble yet defiant statement.
Iranian with English subtitles. The DVD features commentary by Iranian-born film critic and documentary filmmaker Jamsheed Akrami and a 9-minute excerpt from a 2008 interview with Panahi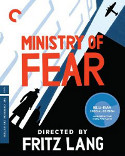 Ministry of Fear (Criterion), a conspiratorial wartime thriller from 1943, presents Fritz Lang directing a Hitchcockian screenplay, but the sensibility is all Lang. Ray Milland is the wrong man here, recently released from a mental asylum (he was sentenced for the mercy killing of his dying wife) and immediately plunged into the middle of a Nazi spy ring in Britain. Milland emerges from his exile back to the social world with an eagerness to connect. Enticed by the crowds and the energy of a village fair, a charity fundraiser for war widows and orphans, he plays along with the fortune teller and the cake raffle with a good-natured humor, oblivious to the forces of darkness circling around him. He's assaulted by a blind man who isn't blind, barely survives a German bombing raid in an otherwise peaceful country meadow, and is framed for a murder at a séance crowded with suspicious characters. Lang constantly lays land mines in seemingly unthreatening locations.
Read More "Videodrone: 'This is Not a Film' and disc debuts from Lang and Dwan"