Known as "The Platinum Blonde" and "The Blonde Bombshell," Jean Harlow was a natural sex symbol for the thirties: gorgeous and shapely, yes, and her fondness for skipping undergarments and wearing low-cut gowns didn't hurt either, but she was also street smart and savvy.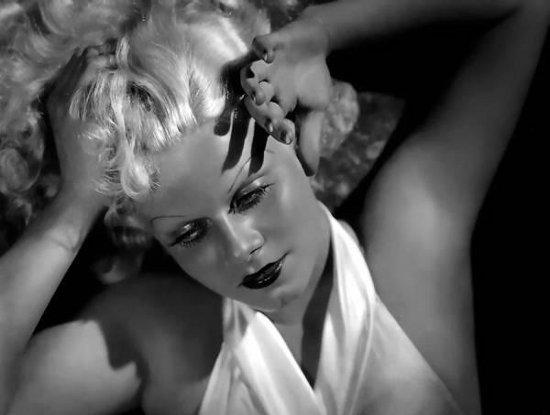 Though never a greatest of actresses (she didn't hold a candle to Carole Lombard, for one), she could hold her own opposite the best of them and MGM paired her up with their top actors: William Powell (her great love), Spencer Tracey and especially Clark Gable, with whom she starred in six film. Even in her most glamorous roles, there was a little of the girl who grew up scrapping her way to success, and her death in 1937 at the age of 24 (from kidney failure) kept her image frozen in place: the all-American sex bomb, both glamorous and down-to-earth.
Most of her greatest films have already been released on DVD—The Public Enemy, Platinum Blonde, Red Dust, Dinner at Eight, Libeled Lady—but not all of them. The Warner Archive box set Jean Harlow 100 (Warner Archive) features seven films from her prime including one of her best ever, the snappy screwball showbiz satire Bombshell (1933).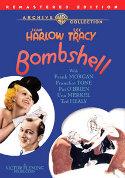 Harlow plays Hollywood superstar Lola Burns, a not-so-thinly veiled riff in her own persona (in one scene, she's called in for retakes on the Red Dust rain barrel scene, certainly one of the real-life Harlow's most famous screen moments), and Lee Tracy is pure mercenary drive as an unscrupulous publicist who actually enjoys the torment he puts her through as he manufactures scandals and breaks up romances with his con-man shenanigans. The script was reportedly inspired by the real-life ordeals of Harlow and Clara Bow and Harlow is clearly in on the gag and having fun with it, playing the public role of the big screen glamour girl while her private life is all chaos and frustration. Victor Fleming, one of the sturdiest of MGM's house directors, and a solid cast of supporting players (Frank Morgan as her fraud of a father, Una Merkel as her sassy assistant, Pat O'Brien as her exasperated director) keep the film running in top gear.
It's the only out-and-out comedy in the collection, but all of these films are smorgasboards of Hollywood entertainment: romance, melodrama, comedy and even a musical number or two in most films and right up front in The Girl From Missouri (1934) and Reckless (1935). Both of these films feature Harlow as a showgirl, though she's dubbed in the singing scenes and even body doubled for some dancing sequences (see the clip below and you can hear and see for yourself) and co-star Franchot Tone, who in these early years made a specialty of the inebriated society playboy with a penchant for grand gestures. But William Powell is the real romantic lead in the latter as a sports promoter who took Harlow out of the carnival and into the big time and still carries a torch for the dazzling girl. Also directed by Fleming, the film is a romantic drama with screwball attitude, show-biz color and a melodramatic streak, an alchemy that isn't always smooth but seems just right for the era.
Spencer Tracy stars in Riffraff (1936), Franchot Tone and Cary Grant vie for Harlow in Suzy (1936) and Harlow takes on a criminal Robert Taylor over Personal Property (1937), while the collection is completed by Saratoga (1937), Harlow's final film. A light romantic drama set on the horse racing circuit, Harlow is a socialite back from Europe, where he's picked up a lot of aristocratic attitude and a swell of a beau (Walter Pidgeon as a high society bachelor with old family money), and Clark Gable is a race track bookie and friend of the family who alternately competes with her and for her. Was there ever as charming a heel as Clark Gable in the thirties? A lot of guys in thirties movies were on the make and always looking for an angle, but Gable was more brazen and unapologetic about his mercenary ways and still could get audience sympathy while he fleeced a mark. This is pure Hollywood formula carried by star power and carry it they do, even though Harlow died before the film was completed (you can spot a stand-in in the scenes where her character remains with her back conspicuously turned from the camera).
Bombshell, The Girl From Missouri and Reckless (1935) are available individually or in the box set. The other four films are available exclusively in the box set Jean Harlow 100, which also features a collection of seven 5×7 studio glamour portraits of Harlow. For more on Harlow and the films in the set, read Richard Corliss in his Time magazine blog.
And speaking of Gable, the Warner Archive just released a few of his films also, but from his later career. Gable was just as confident as ever in the post-war films but he's older and brings some of that experience to this more lived-in persona. His wily manner is no longer as fresh and seductive but he still has gravitas and attitude, though it's not enough to power the four films in this batch.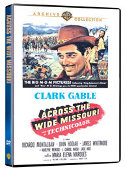 The best of the bunch is Across the Wide Missouri (1951), a frontier western starring Gable as a trapper in Indian country who marries the daughter of a powerful chief for purely mercenary reasons and ends up falling in love with her. It anticipates "Broken Arrow," but without the political statement or character evolution, which apparently were take out in post production. The film underwent heavy re-editing and, at a brief 78 minutes (with transitions filled in by a narrator who doesn't appear until the film is almost over) it feels like a film cut down to the bone. Director William Wellman disowned the finished film, though his name remains in the credits.
The Hucksters (1947) offers Gable as a veteran advertising man back from the war and making a play to break back in to Madison Avenue. One might be tempted to call it the original "Mad Men," but Gable's character is all about the art of the deal, not about crafting campaigns, and his biggest sale is to ad executives Adolphe Menjou and Sydney Greenstreet. The product: himself. Vincent Sherman directs and Deborah Kerr and Ava Gardner (who simply oozes sexuality) co-star, and he does a little selling with them as well.
Also new from the Warner Archive with Clark Gable: Adventure (1945), co-starring Greer Garson and directed by the ubiquitous Victor Fleming (one of Gable's favorite directors and hunting buddies), which was sold with the tagline "Gable's back! And Garson's got him! What a battling sizzling love team!," and Lone Star (1951), a western melodrama starring Gable as a cattle baron and Ava Gardner as his romantic match.
Available exclusively from the Warner Archive:
Jean Harlow 100 (seven-disc box set)
Bombshell
The Girl From Missouri
Reckless
Adventure
The Hucksters
Lone Star
Across the Wide Missouri