Barbara, from director Christian Petzold, is a fiercely directed character piece set in rural East Germany long before the fall of The Wall. According to the program notes, it's 1980 in the GDR, but you have to piece together the era and the situation from the clues on screen: talk of hopes of going to the West, a radio broadcast of GDR athletes at the Olympics, the harassment of secret police who conduct almost daily searches of the run-down apartment assigned to Barbara (Nina Hoss, in one of the most searing performances of 2012), a doctor from East Berlin who has been banished to this nowhere village for carrying on an affair with a man from West Germany.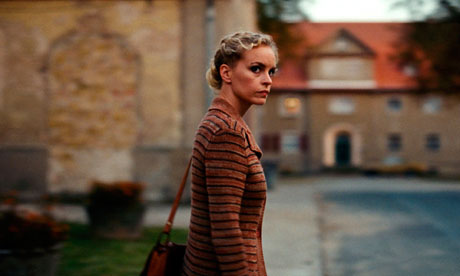 Next to the sea and surrounded by forest, it's a stormy paradise; on her bike rides along the forest trail, the trees rage in the constant windstorms of a world percolating in distrust and sublimated fury. Is there anyone here by choice, or is this simply a prison without walls for unruly citizens? Hoss is all wrapped up anger and emotional distance as Barbara, which the others in the hospital take as urban arrogance except for the teddy bear-ish doctor (Ronald Zehrfeld) who has accepted his exile with something approaching peace. And when she plots her escape, the plan is complicated when she puts herself on the line to protect a teenage girl who constantly breaks out of a local work camp. The critique of the GRD culture committed to breaking the spirits of mavericks and rebels and would-be dissidents is secondary to the human story of Barbara's quiet revolution, a fight against a dehumanizing system that takes a not-unexpected turn and yet is still so satisfying.
At SIFF Cinema Uptown. Showtimes here
Quentin Tarantino's Django Unchained opens on Christmas Day in multiple theaters. Expect Tarantino to once again push boundaries and use genre conventions to explode expectations on how to approach a "serious" subject. What a double it would made with Steven Spielberg's Lincoln: the studious, low-key drama of the political deal-making to pass the Thirteenth Amendment and ban slavery forever, and the furious, violent, audacious revenge fantasy driven not by history but anger and righteous vengeance against a culture of dehumanization. At area theaters.