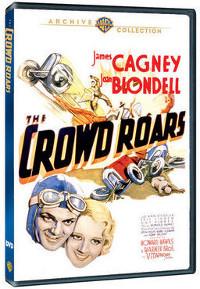 The Crowd Roars (1932) (Warner Archive), a car racing drama directed by Howard Hawks (who had raced cars himself) and starring James Cagney as racing champion Joe Greer, is as rip-roaring a speed drama as you get in 1932. Hawks, who also wrote the original story, tells you exactly what the film is about in the opening shots: a spectacular wreck on a dirt track, the animated response of the spectators leaping up to get a better view, and then the title. We know exactly why The Crowd Roars. The rest turns on sibling bonds broken in rivalry (Eric Linden is his talented kid brother) and romance and a spiral into defeat after the fiery death of a teammate on the track. (The Tom Cruise race picture Days of Thunder borrows a lot form this film.)
Cagney is the most extreme version of the Hawks hero, whose callous dismissal of his long-suffering girl (poor, hopelessly obsessed Ann Dvorak) borders on abusive, but he's also more hotheaded and less disciplined than the usual self-contained Hawks man: a hypocrite, a drinker, a risk-taker whose impatience and anger kills his best friend. Joan Blondell gets second billing as Dvorak's best friend, who seduces Linden in revenge and ends up falling in love with the kid, and Hawks puts real-life driving champs in the pits and sidelines. You may not recognize them by face or even name today, but they're easy to spot – they're the ones who can't act. But don't worry, they don't slow down the film.
Hawks fills the film with real racing footage, including some dramatic crashes, interspersed with his staged scenes, and he drives it with an energy to match the onscreen speed. The film was originally released at 85 minutes, then cut for rerelease. The original cut is apparently lost so this is the 70-minute version, which also may contribute to the film's headlong momentum.