Jacki Weaver won her first Australian Film Institute Award in 1971 and has been a mainstay in Australian theater and television for decades. And now "Animal Kingdom" has made her a debutante all over again. Her performance as Janine 'Smurf' Cody, the mother of a brutal crime family in Melbourne, has earned accolades and awards for the sixty-something actress who has been described as a "national treasure in Australia."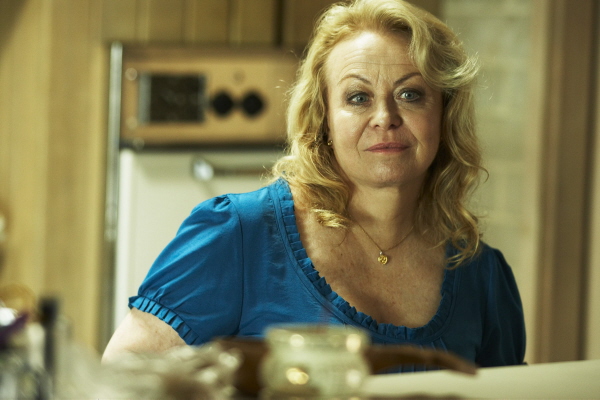 "They call me a national treasure," laughed the sixty-something actress as we discussed her success in a phone interview last week. "I think I'm more like a national relic." Modest and self-effacing, she's clearly enjoying the ride. "I am a newcomer in America, which is novel and amusing and thrilling. I've been coming to New York now since 1972 and I never dreamed that I'd be part of the industry here, especially at this stage of my life. So yeah, it's pretty amazing."
We discussed how the role came her way, playing a mother who has been compared to Lady Macbeth, her list of dream directors (you're on top to that list, Mr. Tarantino) and, of course, what she's been watching on DVD.
Sean Axmaker: What's in your DVD Player?
Jacki Weaver: The last think I say on DVD was Toy Story 3, which I thought was wonderful, and before that it would have been, I saw The Girl With the Dragon Tattoo and we always have a look at Love, Actually at Christmas time. But generally speaking I avoid watching things on a small screen because I… maybe I've got a short attention span. I love to be in an empty cinema and watch something in the dark on a great big screen.
Director David Michôd said that he wrote the part for you and approached you about the role years before it got made. Did you know him before that?
No, I'd never heard of David. He was a young film school graduate and he also had an arts degree in English literature and he'd been a film journalist as well, but I'd never heard of him, no. He sent me the script and I thought it was fantastic. And then, of course, being an independent film and an unknown director, it took him a few years to get his money and budget together so I didn't hear anything for quite a few years, I'd almost forgotten about it, and then he said, "I hope you still want to do it because I don't want to do it with anyone else," which was a lovely thing for an actor to hear.
Continue reading on Videodrone: Commentary on DVD, Blu-ray and more