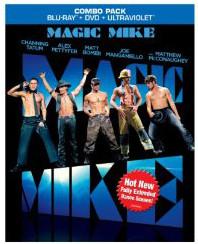 Magic Mike (Warner) is one of the success stories of 2012. While megabudget spectacles and potential tentpole films collapsed under the weight of heavy productions over flimsy scripts, Steven Soderbergh took a story inspired by actor Channing Tatum's early experiences as a male stripper and a budget that wouldn't pay for the reshoots on "Battleship" and delivered a film that took in over $110 million, over 15 times its budget.
Tatum's Magic Mike is a hard-working guy in Tampa, Florida, constantly on the hustle, working under-the-table construction by day, headlining a male strip club on weekends, and working the angles in between, and Alex Pettyfer is his protégé, you might say. This is a world of tawdry glamour, street hustle, and working class desperation, and Soderbergh, star/co-producer Tatum, and screenwriter Reid Carolin do a great job of showing us how it works as a business and how it seduces as a lifestyle.
There is, of course, a cast of good looking men stripping down to g-strings and grinding their oiled hardbodies for a crowd of screaming women (among them Matt Bomer of "White Collar," Joe Manganiello of "True Blood," and Adam Rodriguez of "CSI: Miami"). It's no secret that the film pulled in a cross-over audience of both women and gay men by offering the same spectacle that the movies constantly deliver to straight men. But "Magic Mike" is no exploitation film, nor an exposé of the dangers of this culture, nor a celebration of it. It's a character drama with some superb characters and a terrific, grown-up romance with a young woman (Cody Horn) who is physically attracted to Mike but wary of his easy lifestyle and constantly-delayed dreams.