"The pioneers who made these movies did so despite the industry's early male domination and, for a time, they flourished. The scholar Shelley Stamp, who curated the Kino Lorber set, believes that at least two questions are worth considering when we talk about what happened to these women: "Why did they disappear?" and "Why have we forgotten them?" Speaking by phone recently, Ms. Stamp said that the disappearance happened fairly rapidly. By the early 1920s, a group of studios were consolidating power by buying up theater chains. This in turn shut out independent filmmakers, including women and people of color." Manohla Dargis surveys the Pioneers: First Women Filmmakers series playing in New York and draws our attention to some remarkable directors who contributed so much to early film before being fired from their jobs and written out of the history books for their gender.
"Wanda never falls prey to self-pity, or the chic despair of some of the woman-adrift films of the period.  There's a kind of raw energy in the journey's very futility. And in the fact that she remains mysterious and unknowable, reminding us afresh of the inadequacy of the categories by which we find meaning—and an illusion of mastery—in experience." One more recent master who flirted with obscurity has since been rediscovered and hailed, and Criterion celebrates the restoration of Barbara Loden's Wanda by asking a clutch of woman essayists and artists (including Molly Haskell, quoted above) how powerfully they were shook by the film's unsparing portrait of a woman so silenced and hollowed out by patriarchy there's nothing left to her but drift.
"As Hannah McGill pointed out in an excellent essay for the BFI, the fact that most readings of the film assume that its aesthetic and narrative focus is homoeroticism—that it is repressed desire that causes Chief Adjutant Galoup (Denis Lavant) to conceive a murderous hatred of the handsome and popular soldier Gilles Sentain (Grégoire Colin)—seems proof of how far the concept of a female gaze was from anyone's mind. But this is a film about men seen through the eyes of women—director/co-writer Denis, her regular cinematographer Agnès Godard, and editor Nelly Quettier, and it doesn't just observe and celebrate male bodies, it probes, sharply but compassionately, the dynamics of all-male groups, particularly the cankers of jealousy, competitiveness, and insecurity." Imogen Sara Smith examines three films (all French, coincidentally—Denis's Beau Travail, Rohmer's The Romance of Astrea and Celadon, and Bozon's La France) from the current Lincoln Center program of films shot by female cinematographers that, each in its own way, expose the politicized notion of cinema's "male gaze" as oversimplified and even "perversely joyless."
"Lang's imagination of universal iniquity in Das Testament had, then, not gone quite so far as reality, though from early on in his directorial career he was developing a uniquely cinematic means of conveying something essential about the still-young twentieth century—the fact that it was to be an age of networks, of vast, interlocking systems, rather than of individuals. Mabuse, from his first appearance, was distinguished from the supervillains of the past by his very contemporaneity, his intimate understanding of the intricate cogs that comprise the clockwork mechanisms of the age. Not only was he, as a psychologist, a priest of a still-novel soft scientific faith, but he was a preternatural genius of organization, a creature with biorhythms perfectly accustomed to train timetables and the ding-ding of the stock market bell." Nick Pinkerton looks at the central role Lang's three Mabuse films—particularly the last, 1960's The Thousand Eyes of Dr. Mabuse—play in the movies' sometimes glib, sometimes fearful portrayal of the 20th-century world as one giant surveillance state.
"From the slum below Gondo's white hilltop mansion, a psychotic kidnapper (played by a rabidly handsome Tsutomu Yamazaki, later the star of Juzo Itami's The Funeral) seethes with envy and hatred in the heat of his ramshackle hut, determined to bring Gondo low, back down to his squalid beginnings. His plan to snatch Gondo's son for ransom goes awry when he takes the chauffeur's son instead, but he demands the ransom all the same. Gondo is torn: at this very moment, he is gambling to gain majority control of his company, and he will lose everything if he pays the money. He paces the perimeter of his glass house, gazing over its precipitous edge. Faced with a terrible choice, his jungle self strains at the buttons of his cardigan." In an appreciation of the erotic appeal of Toshiro Mifune, Kerri Sakamoto focuses on how the rough-edged, unkempt wild man of Rashomon and Yojimbo initially seems absent in High and Low, till Mifune's mogul reveals he was still there, quiet behind the impeccable façade.
"'I was born at a time when Barbara Hammer was making more 16 millimeter experimental films than any other lesbian in the United States,' [Joey Carducci says in the opening to his film A Letter to Barbara Hammer] riffing on Tender Fictions's opening line. If queer cinema traditions possess a shared characteristic, it is this preoccupation with our community's own expansive chronologies and chosen genealogies. Film allows one to go the distance: to compensate for archival limitations, address forbidden intimacies in the frankest of terms, and approach historical repression with a sense of humor." Sarah Fonseca talks to the current generation of queer experimental filmmakers about the strong influence and inspiration filmmaker Barbara Hammer has had for them throughout her 50-year career.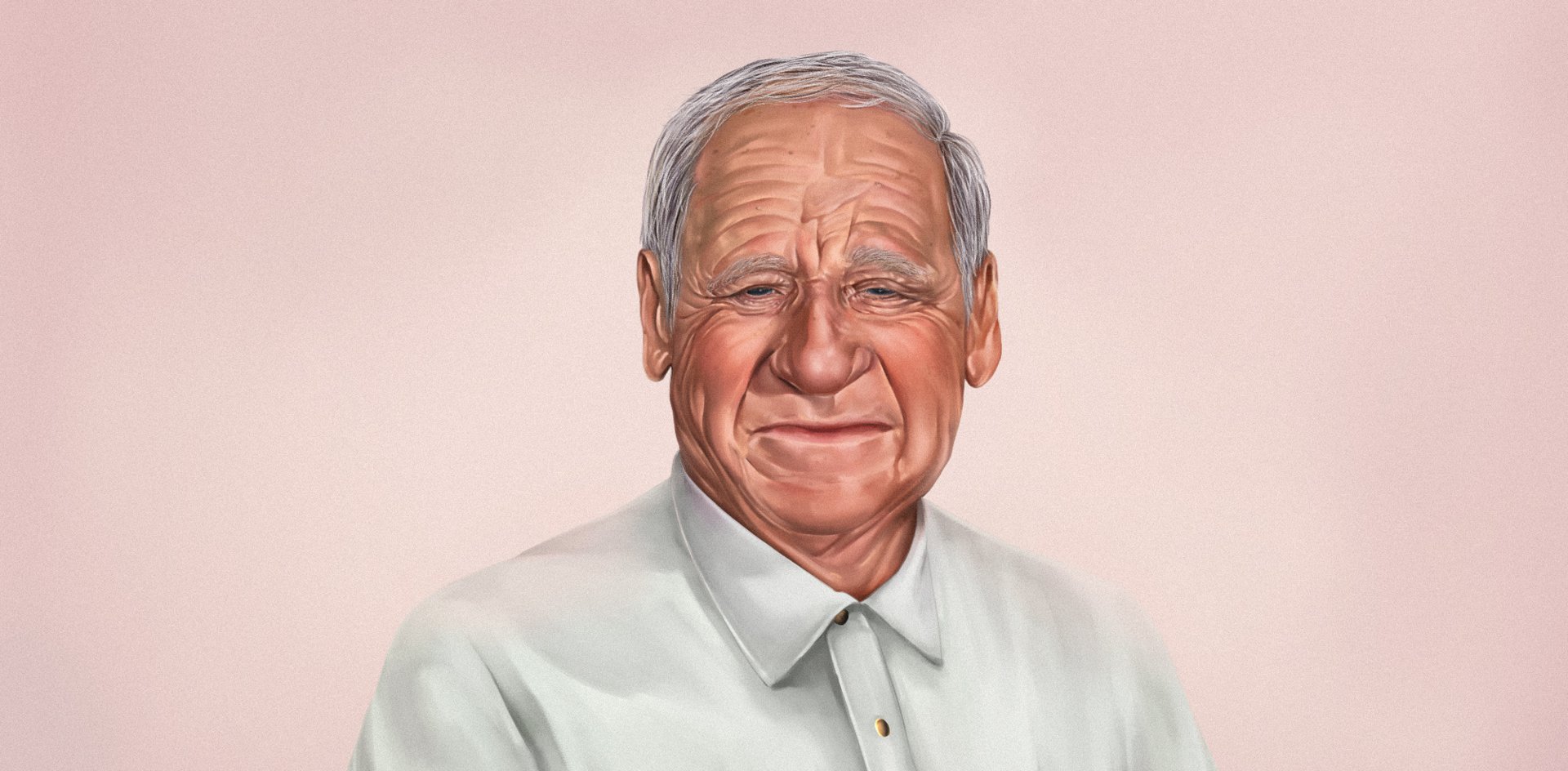 "'I'm just a Jew comic!' Brooks said to me at the beginning of our talk in Los Angeles, as if to ask, Why are you interested? But this comic has stormed through 75 years of show business, working in almost every medium imaginable (Borscht Belt, television, comedy albums, movies, musical comedy, one-man shows), and he may have contributed as much as anyone, in his manic style, to the formerly shaky but now sturdy arc of Jewish survival and success. That's something of a mouthful, and I should quickly add that Brooks doesn't talk that way himself. Instead, he'll say, 'I'm just an entertainer … One of the best, mind you.'" David Denby's profile of Mel Brooks finds the 92-year-old legend still playing out his fears and anxieties for laughs and still reducing audiences to tears in doing so. Via Longform.
"As producers and editors are toiling, copywriters are hiding in their offices, taking dozens of stabs at six-word taglines and crafting splashy narration for trailers and TV. 'It's abstract art,' says Weir. 'Sometimes, I would just write the most offensive, absurd, and completely tonally off thing and just bury it in there just to see if anyone was reading. More often than not, that would end up being a contender.'" Matthew Kitchen visits Trailer Park to find out how the sausage gets made, and finds some not surprising facts about making trailers: studio notes can be a pain, style is frontloaded over message, and Christopher Nolan is remarkably stingy about the footage he'll send over for you to choose from.
Obituary
American director Stan Dragoti rose out of an advertising career (in the seventies he helped create the "I Love New York" campaign) with Dirty Little Billy (1972), an R-rated anti-western with Michael J. Pollard as a young punk Billy the Kid, and went on to direct some very successful comedies: romantic horror spoof Love at First Bite (1979), Mr. Mom (1983) written by John Hughes and starring Michael Keaton as a stay-at-home dad, and spy farce remake The Man with One Red Shoe (1985) with Tom Hanks. I missed the notice that he passed away earlier this month at the age of 85. More from Mike Barnes at The Hollywood Reporter.
The weekly links page is compiled and curated by Bruce Reid, with obituaries curated by Sean Axmaker.